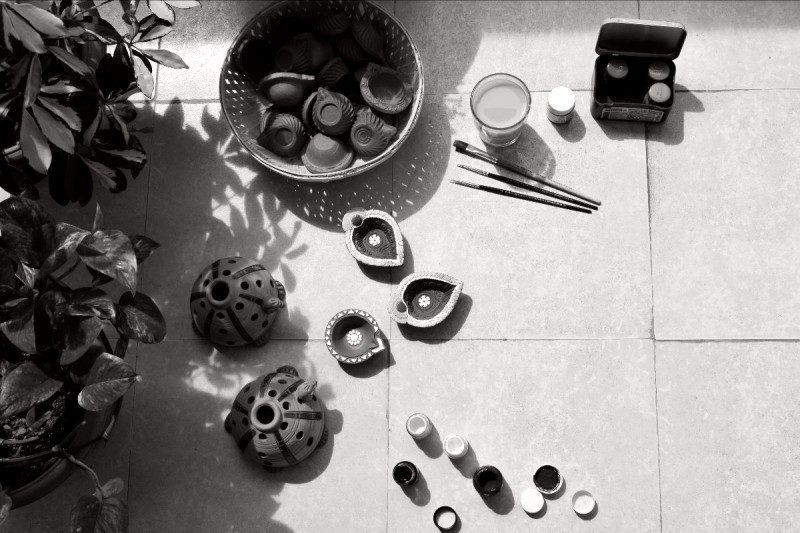 Diwali Celebrations 
This year, Diwali runs November 2-6 with the actual day of Diwali falling on today, Thursday, November 4. We've gathered some of the best ways to teach children about the holiday and celebrate together this year.

Events in Your Area
The Children's Museum of Manhattan is hosting a series of events this week for children and their families, including crafts, storytelling, and performances. This Saturday, November 6, visit the Chhandayan Center for Indian Music for a joyous day of music, dance, and food. In Los Angeles, the trendy Badmaash is offering a special menu for Diwali featuring small bites and unique seasonal flavors, including punjabi style pumpkin. Miami locals can unwind with yoga, homemade chai, and select foods with SkyLight Yoga Ashram.  In London, book a table at Michelin starred Gymkhana to enjoy a special Diwali tasting menu through November 7. The menu features multiple decadent courses, with optional wine pairings, ending with chocolate mawa cake, or our recommendation – the cardamom and basmati rice kheer with fresh figs.
Diwali Crafts & Books
This year, PBS put together a list of their top Diwali children's books – we love Diwali Lights for younger children and Holidays Around the World: Celebrate Diwali : With Sweets, Lights, and Fireworks for older readers. There are plenty of crafts for children of all ages to make to celebrate the festival of light, from lanterns to candle holders. Our favorites are the crepe paper lotus light,  DIY colorful Diwali lantern, simple salt dough candleholder, quilled rangoli, and this paper rangoli sun catcher.
Recipes 
Traditionally, Diwali is a celebration filled with rich homemade foods and treats. While meals vary widely from region to region and family to family, most feasts highlight the seasonal produce available, along with plenty of Indian sweets. We recommend these cheesy samosa puffs (children and adults will love them!), homemade dosas, paneer tikka, and Indian butternut squash curry. Throughout the celebration, indulge in homemade cashew barfi, 3-ingredient Coconut Til Ladoo, or Patishapta (a great last-minute choice!).
Quick, Easy & Healthy Weeknight Recipes Kids and Adults Will Love
As the seasons change, our palettes and variety of seasonal produce do as well. This week, we've gathered some of our favorite cold-weather recipes that the whole family will love – and all are easy enough to make on a weeknight!
Quick and Easy Weeknight Turkey Chili – The swap from red meat to turkey makes the dish a bit lighter and healthier but is still hearty and satisfying.
Chive & Lemon Zest Mashed Potatoes – Perfectly creamy, these mashed potatoes have a bright flavor that complements anything you serve with them.
Shish Kabob – Children will love putting together and eating this fun dish. There are also endless variations – try adding shrimp, chicken, mushrooms, tomatoes, or even halved Brussels sprouts!
Kid-Friendly Winter Salad – Great for breakfast, lunch, or a side for dinner, this salad is quick and simple to make, and is filled with nutrients and fiber. Add a light vinaigrette and a handful of nuts or fresh herbs to make a more elevated version for the adults at the table.
Spaghetti Squash Pizza Nests – These are a fun way to add vegetables to pizza night. Lay out a few toppings (don't forget a good salami, a gourmet cheese, and maybe a spicy honey for adults) and let everyone in the family design their own.
Apple Cider Chicken with Caramelized Apples – A quintessential fall recipe, this surprisingly easy recipe tastes rich and full of flavor but comes together in less than an hour.