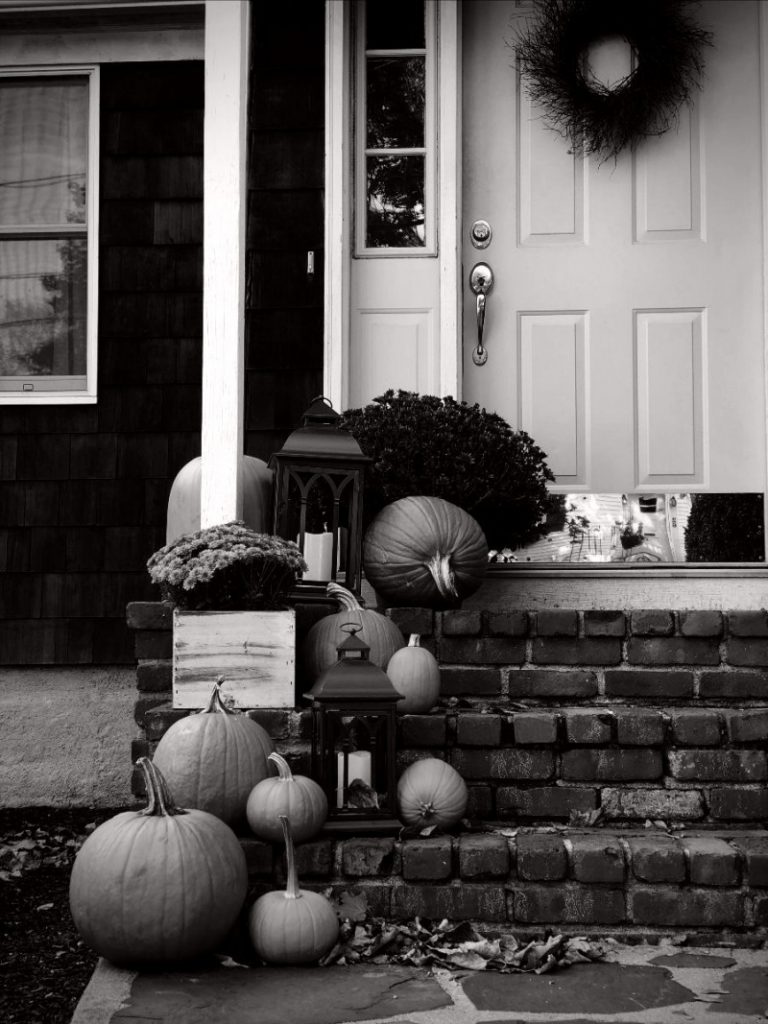 Halloween is this weekend – for some, it will be a much-needed celebration after skipping last year's festivities. Others may not yet feel safe gathering in groups and prefer to stay home and enjoy the holiday with family. Still others have had a busy start to the fall season and haven't had a chance to think about Halloween plans. However you'd like to spend this weekend, we've gathered a selection of fun recipes, last-minute crafts, delicious cocktails and spooky events with a few tickets left – there is sure to be something on the list to keep the everyone in the family entertained. Happy Halloween!
Halloween & Autumn Crafts
Crafts make great last minute holiday activities – whether your child will be celebrating with friends this weekend or staying home, add some simple October fun to the celebration using items you likely already have around the house. Using just pinecones, stick-on eyes, and pipe cleaners, children can make spooky spiders (and a variety of other monsters if they choose!) to play with or decorate the Halloween table. Other easy crafts for younger children include a paper plate skeleton, balloon ghosts, paper pumpkins, toilet paper roll ghouls, and egg carton monsters. Looking for last minute Halloween decorations? Get the whole family involved in cutting and folding paper bats and you'll have a spooky paper bat wall in less than an hour! For a more elaborate project (and one you can eat later!), try a gingerbread haunted house; use the instructions as a starting point then get creative with pumpkins, ghosts, tombstones and more!
Spooky Recipes
For a fun at-home Halloween with children, there are plenty of spooky and easy to make recipes out there. Some of our favorites are Creepy Halloween Spider Web Pizza, Graveyard Pudding Cups, Jack-O-Lantern Quesadilla and Crescent Mummy Dogs. For even more, check out this list of Healthy Halloween Snack Ideas for Kids. For adults (or adventurous children!), we love homemade squid ink pasta – the striking black noodles shine in a simple sauce or add olives or sun-dried tomatoes for a spooky (and delicious) mix-in. Follow the main course with a chocolate spiderweb cake, pumpkin doughnuts with a hot cocoa glaze, or candied 'poison' apples.
Curious Cocktails
Whether you're hosting a spooky celebration or having a quiet night in, we've compiled some of our favorite Halloween cocktails. For a classic crowd pleaser, we love classic spiked hot apple cider; not only is it delicious but your home will smell amazing while it simmers. To make it friendly to non-drinkers as well, consider setting it up as a 'hot apple cider bar' – serve the warm cider without alcohol then offer a selection of bourbons and other alcohol, as well as seasonal garnishes, like cinnamon sticks, apple slices, and cranberries. For a lighter cocktail that still feels festive, try the blood orange thyme paloma. We also love the bright green Death in the Afternoon cocktail featuring absinthe and champagne.
Grown-Up Celebrations
If you're looking for an elevated Halloween celebration outside the home, there are still tickets available to certain celebrations. In New York City, buy tickets to a candlelit classical music concert, featuring classics as well as Halloween favorites (such as Michael Jackson's Thriller and several songs by Danny Elfman). In Los Angeles, buy tickets to the LA Opera to see Jordan Peele's popular thriller Get Out screened alongside a live orchestra playing the score, led by composer Michael Abels. Sunday night, the Banc of California Stadium is hosting a special event featuring a screening of The Nightmare Before Christmas film, alongside live performances by Danny Elfman and Bille Eilish, and several other special guests. In Miami, consider attending A Haunted Evening of Classical Compositions on Jungle Island; the spooky candlelit event featuring a string quartet, as well as food and beverages. In London, head out for a scary movie screening – at BackYard Cinema, choose from screenings of Scream, Rocky Horror Picture Show, Hocus Pocus, and more. The stunning Rivoli Ballroom is hosting screenings of The Witches, Rocky Horror Picture Show, and The Shining.