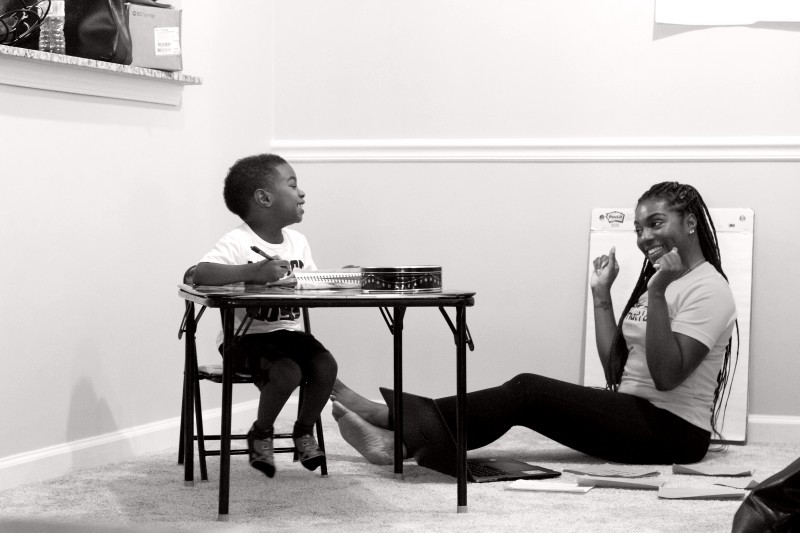 Live-in or Live-out Nannies in Urban Centers 
During Covid-19, more families than ever began requesting live-in candidates to minimize exposure to the virus. We understand this is an appealing option considering the risk of Covid-19 spread but many of the best nannies prefer to sleep in their own bed at night. To attract the highest quality nannies, we urge hiring parties to offer live-out as an option, if possible. Your pool of candidates will be greatly limited if you consider only those who are available to live-in.
In terms of safety, we suggest checking each staff member's vaccination card or vaccination app (click here for a list of approved vaccination apps by state) and, as an extra layer of protection, requiring nannies and other staff to do weekly Covid-19 tests. This is especially important if you have children in the home that are too young to be vaccinated, or other high risk family members. Covid-19 tests are now available to order and complete at home which makes it possible to avoid testing areas where others may be positive for the virus. Many luxury buildings in major cities now offer Covid-19 testing as part of the building amenities – check with your building to see if that's an option.
If you still feel live-in is the best, most practical, and safest option for your family then it's important to make the job as appealing as possible to attract top talent in an extremely competitive market. If you want to find high quality, experienced nannies for a live-in job, the salary should be above market (BAHS can advise on market rates based on location) and the living quarters should be as separate as possible with their own bathroom. At minimum, a private bedroom and bathroom should be offered; a separate entrance, kitchen, laundry, and living quarters are all added benefits. Offering a private apartment is an excellent option, but of course is more costly. Live-in nannies typically still prefer to return home on their two days off, so we recommend having them take a weekly Covid-19 test before returning to work.
Whether your nanny is live-in or live-out, it's important to have open and honest conversations about what activities both parties are participating in outside the home, so everyone understands their level of risk. For example, as we head into winter months, you might discuss what size gatherings you'll be attending indoors and what precautions you plan to take.
Hiring Outside of Urban Centers 
Since the pandemic began, there has been an enormous influx of families to the suburbs, including Greenwich, Westchester, Scarsdale, Fairfield, New Jersey, Hamptons, Malibu, Santa Barbara, Orange County/Laguna, Sonoma, and Pebble Beach. Many companies are now fully remote, enabling people to move where there is more space for children to play and the extra space helps families and individuals feel safer from coronavirus in the less crowded, more countrified areas.
Due to this influx, nannies, housekeepers, and other types of domestic staff are scarce as they are getting hired very quickly and have the ability to pick the best, most appealing roles. If you have moved to the suburbs, we suggest creating a very appealing job position and offering benefits if you can. If benefits or higher financial compensation aren't an option for your family, consider other ways to make the job appealing, such as a flexible schedule, extra vacation time, or larger living quarters. For example, a schedule of 40 hours per week Monday through Friday with a daily start time of 9am would be very desirable to most candidates.
Another option that we've been seeing quite a bit of success with is relocating a nanny from out of state and offering an appealing salary and schedule, as well as private living quarters. BAHS has branches all over the US so we are able to help with relocating candidates; we have high quality nannies all over the country, many ready and willing to move immediately. This option is more costly upfront but gives your family access to a larger pool of candidates, increasing the likelihood of finding a long-term fit. Again, an appealing salary and benefits, such as health insurance, help attract the best candidates. If you are unable to offer the higher salary, consider hiring a less experienced nanny from a state where wages are lower, like Ohio or Idaho. BAHS can help with these searches, as well.  If you relocate a nanny, they would work 5 consecutive days a week with two days off, just like a traditional nanny role.  However, they would be living on property the entire time, which does help with Covid-19 safety and minimizes outside risk.
Lastly, keep in mind that the hiring party is legally allowed to request proof of vaccination, booster shots, and regular Covid-19 testing. Employers should cover the cost of any mandatory Covid-19 tests for their employees.
There is always a solution to your hiring needs, no matter where you live or what you need. Offering an appealing overall package is recommended – a generous salary, built-in bonuses or raises, benefits, flexible schedule, and extra vacation time all are great ways to attract the top nannies. The recruiters at British American Household Staffing can help advise what the best strategy will be for your particular circumstances.