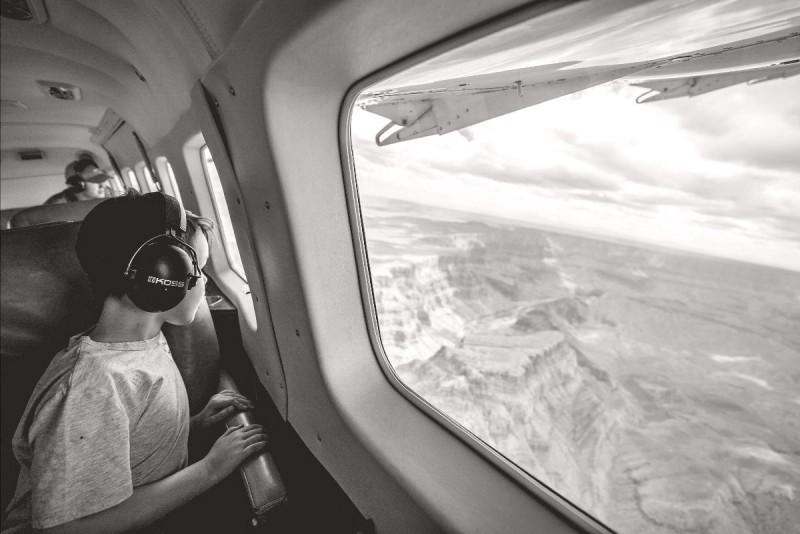 As we approach a busy holiday season, more and more people are choosing to travel again. Many parents out of the habit of traveling with children and many new mothers may be traveling with their babies for the first time. These experiences can be difficult for parents and children alike. Even on a private aircraft where you're likely to have a bit more space and freedom, children may still experience challenges with takeoff and landing, with boredom, and with the change in routine and environment. This week, we talked to our top nannies, as well as our British American Household Staffing team members who have their own children, about their top recommendations for improving the travel experience for both little ones and parents.
Prepare
You won't be ready for every situation that comes up while traveling with children but you can avoid a few problems by planning ahead. When booking, try to choose either a direct flight or a flight with a longer layover. No parent wants to be running between flights with a stressed-out child. If you have a long layover, use it to regroup. Take the time to clean and organize toys, change diapers, refill water and milk bottles, and have a good lunch – and make sure you eat, hydrate, and take care of yourself too!
Think carefully about what to pack where and make sure all kid-friendly toys and snacks are easily accessible. Be sure to dress your child in layers so they'll be comfortable during the whole journey door to door. Bring a change of clothes in case of an accident (and one for you if you might need it!). Do as much of the airport check-in process at home or on your phone as possible. Bring an extra bag for trash so you can keep the seat area a bit neater without waiting for the flight attendant to walk by.  Talk to your children days before the flight and prepare them for what the day will look like – explain what they need to do at security and what the safety rules are on the plane – and, of course, help them get excited about the fun parts of the trip once you land!
Create a Safe Space 
Flying, especially for younger children, can be a scary and overwhelming experience. However, there are a few things you can do to help children minimize sensory overload and feel safe. We suggest bringing a large, lightweight blanket to drape over the seat during nap time. The "baby cave" will help create a private, dimmed space, free of distractions. If possible, use children's nap time as a moment to recharge yourself – order a refreshing beverage, a snack, or read a few pages of a novel.
Children of any age will benefit from familiar and cozy items – pack a favorite pair of pajamas or a fleece onesie (even better if they smell like home!) to help them settle in during nap time. Try to mimic your at-home bed or nap time routine as much as possible – reading the same book and having the same toy as usual can go a long way in keeping a child calm and focused. Pack children's headphones and a playlist of your child's favorite songs – this can help calm a child during takeoff, landing, or any turbulence. Make sure to practice putting the headphones on at home ahead of time so children aren't surprised by a new feeling.
Make it Fun
No matter the age of your child, distractions are key for the hours your child is awake on the plane. Bring a new toy or book for children; for younger children teething, bring a special teether or foam bath book. The experience of opening and engaging with a new toy can distract a child for a good length of time. Crayola Color Wonder pages are great for traveling – the markers only work on the special paper so you don't have to worry about children making a mess on tray tables or seats. Sticky notes, finger puppets, and other small toys are great to pull out slowly through the trip as fun distractions. This isn't the moment to worry about screen time – sometimes giving a child an iPad loaded with their favorite movies or games is the best choice for a smooth ride.  For travel, we recommend purchasing toy straps to attach to all toys, so they won't get as easily lost under the seats.
Snacks, snacks, snacks! 
The changing pressure on takeoff and landing can hurt little one's years – sucking or chewing can help this. Pack a bottle of breast milk or formula for young children (remember that formula and breast milk are not subject to the same liquid rules aboard planes, but you will need to notify TSA during the security process) or a favorite snack for older children. We recommend having multiple, small, easy to eat snacks ready for children – this could be ready to go snacks like single serve goldfish and granola bars or pre-cut fruit, vegetables, and cheese in small reusable plastic bags (we love Stasher's colorful options). Bring a spill proof toddler snack cup and refill with new snacks whenever needed.  Don't forget to pack a special surprise treat your child loves that you can pull out in the event of a meltdown.
Stay Calm 
Something will inevitably go wrong during the trip. Try to stay calm and remember you will get through it. During meltdowns, focus on your child and don't worry about what other passengers might be thinking. Be kind and courteous to the flight attendants who assist you and your child. If you're traveling with your partner or another adult, take turns with the children. Consider booking one adult seat with the children and one separately – adults can switch off caring for the children, allowing for stress-free breaks or sleep.
Book a Travel Nanny
Many full-time nannies will travel with the employer but if yours cannot, you may choose to book a temporary travel nanny for longer trips. If you travel often, we recommend hiring a full-time nanny who can assist with all travel needs. This nanny will be ready and willing to accompany your family on domestic and international trips whenever needed. The nanny will be able to pack for the children, plan activities for the plane and destination city, and make the trip stress-free for the parents and fun for the children. British American can assist with finding temporary nannies, as well as full-time travel nannies.