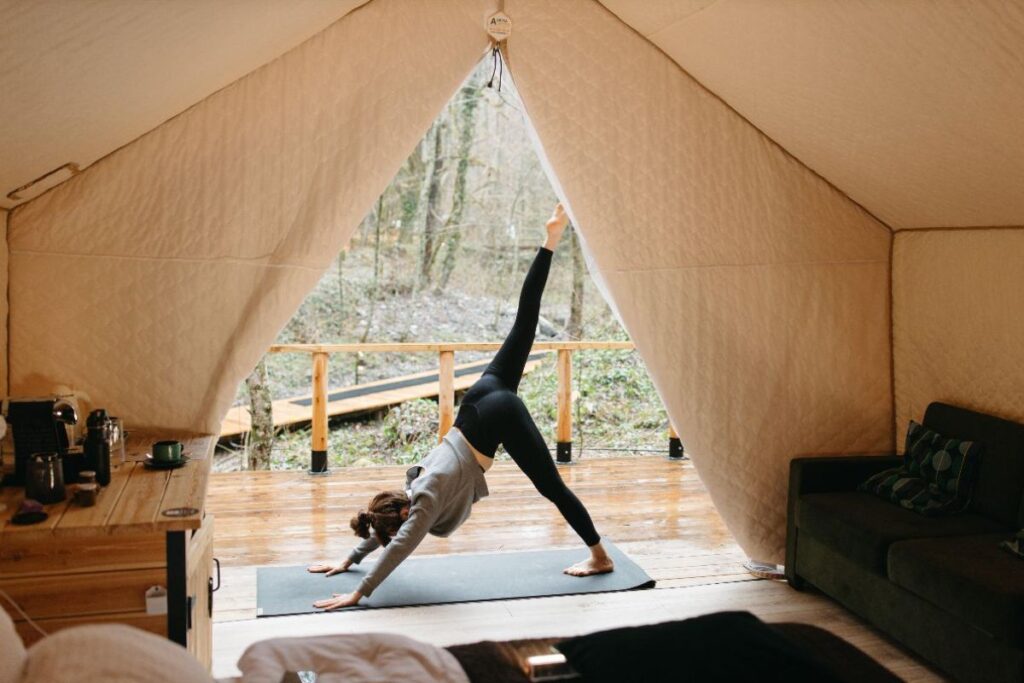 Our Favorite Glamping Destinations Across the Country
Glamping, the now commonly used portmanteau of glamorous and camping, has extended far past elevated yurts or tents with WiFi. Glamping can now include on-call butlers. plush bedding, housekeeping service, and fine dining. This week we've gathered our favorite glamping destinations across the country for those looking for an experience close to nature without sacrificing a good night's sleep and luxury amenities.
The Resort at Paws Up, Greenough, Montana Set on 37,000 acres of wilderness, this luxury resort offers something for everyone, whether you're looking for a cabin in the wild or a 605-square-foot tent with top-notch amenities. For those seeking a true "glamping" experience, choose from one of their six camps featuring safari-style tents. Although all of the camps are lovely, our favorite is River Camp – there you'll enjoy a luxury tent with river views, a spacious deck, a modern en suite bathroom with heated floors, and, of course, full housekeeping service and a private butler. For meals, guests can visit one of the several restaurants at the main hotel or enjoy camp cuisine prepared right outside their door by a private chef. While onsite, enjoy a huge array of activities, including fly fishing, hiking, canoeing, horseback riding, and more. This resort is extremely family-friendly and offers activities, meals, and even mocktails catered to discerning little ones.
Terramor, Bar Harbor, MaineTerramor is a nature-first luxury hotel offering full access to Acadia National Park, as well as hotel amenities, a pool, a wellness center, and more. Choose from several luxury tents that accommodate groups of 2-5 and feature perks such as a plush beds, private campfires, and fast WiFi. The hotel provides telescopes, backpacks, hiking poles, and other outdoor equipment free of charge so you can spend your days exploring and your evenings relaxing with a glass of wine by your private fire.
Desolation Hotel, Hope Valley, California Depending on the level of rustic you're looking for, choose between a 3-bedroom house, historic cabins, or gorgeous tents and yurts. The luxury yurts feature cozy beds, high ceilings, soaking tubs, gas fireplaces, and skylights. The resort encourages a deep connection with nature – and a break from technology – so lodging here doesn't offer WiFi and cell phone service is not guaranteed. However, for those in need, WiFi is available. in the café and common areas of the hotel. While visiting, enjoy seasonal meals in the resort's restaurant, private beach access at the nearby Lake Tahoe (note that Desolation has a sister property there), a wood-fired sauna, and miles of wilderness for hiking, mountain biking, fishing, swimming, canoeing, and more.
With three locations in the Catskill and Adirondack Mountains, Eastwind is a great choice for New Yorkers looking for a rustic getaway. Scandinavian-inspired luxury tents feature gorgeous wood-paneling, private bathrooms, air conditioning, patios, fire pits, grills, and more. While all locations have full bars and various food options, the restaurant at the Oliverea Valley location is especially worth a visit. Dandelion serves seasonal plant-forward food and beverages in a cabin-like setting. Check the hotel's event calendar for special events, like live music, communal barbecues, and more.
Outdoor Travel Essentials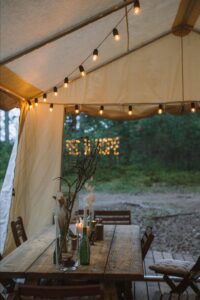 Danner Mountain 600 Hiking Boot (Women) Danner Mountain 600 Hiking Boot (Men)Yeti TumblersKinfield Golden Hour Bug SprayDr. Bronner's Organic Hand Sanitizer REI: Peak Design Everyday BackpackFrontier Picnic Backpack