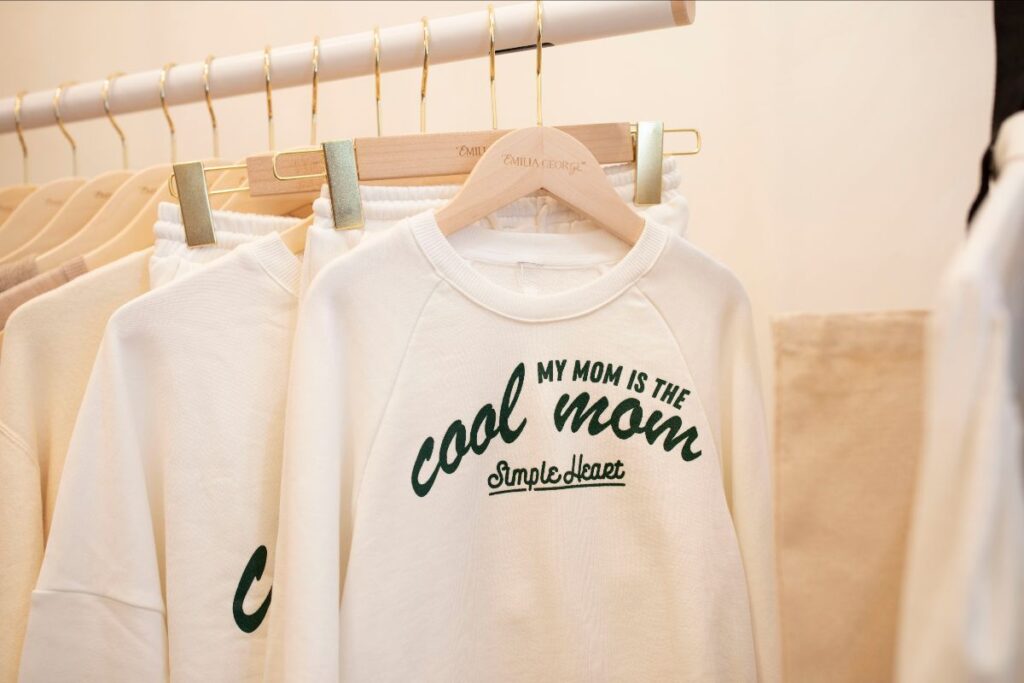 This week, we've partnered with Elle Wang, founder of the motherhood brand and boutique Emilia George. We sat down with Elle to discuss entrepreneurship, motherhood, and how she handles doing both.
Q & A With Elle Wang
Tell us a little bit about you and your background. What inspired you to start Emilia George?  
While I spent most of my career working for the UN, I've always been an entrepreneur at heart and knew I wanted to create something that positively impacted the world around me. The idea of Emilia George actually came to me while I was pregnant with my first child, when I quickly discovered there was a shocking lack of comfortable, stylish, and work-appropriate maternity wear options for female professionals. I decided soon after that maternity wear would be where I make my mark. The rest is history!
Describe Emilia George in three words.
Versatile. Exciting. Limitless.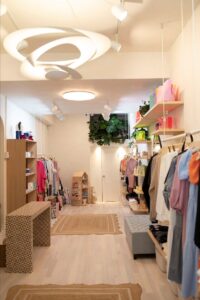 How would you describe Emilia George as a company?
As a mom-focused, mission-driven company, I've taken an unconventional approach to expanding my business by keeping an open mind and forging my own path as a leader. Innovation is really important to me. I've focused a lot on creating an energetic, collaborative culture so that we can continue to overcome obstacles with grace and prove ourselves as an industry innovator in the maternity wear space.
What's the most difficult part of running your company?
I would say the most challenging aspect of running my company has been transitioning to working with a growing in-house team! For a long time, Emilia George was a one woman show; I was doing everything on my own. And while I certainly don't wish to go back to those days, it's taken a lot of adjusting for me as a leader getting used to considering more than just my own opinion in business decisions.
And the most enjoyable part?
The most enjoyable part of running my company is getting to help other young professionals start their careers. Because we are such a highly-collaborative team, it's incredibly fulfilling to be able to expose these up and coming fashion industry professionals to different parts of the creative process that they wouldn't get the chance to see at larger companies.
I understand you launched the company just before Covid hit – and ended up pivoting and finding new ways to be successful during that uncertain time. Can you tell us a bit about what the journey looked like for you and what you learned?
Oh man — well first, I was in despair; I worried we would end before we even really started! We quickly transitioned to producing masks, and when that decision started to pay off, I came away with a deep understanding of how essential it is for leaders to be adaptable and resourceful. Sometimes, being a leader means diggin in, staying focused, and finding a way.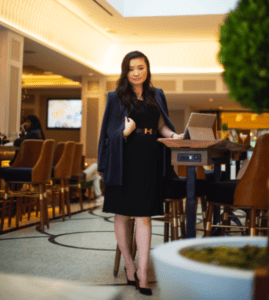 How old are your children?
My boys are 3.5 and 1.5 years old.
How has your life changed since you had children? What's the best part?
What about my life hasn't changed since I had children?? Hah! It's difficult to put into words all the ways motherhood changed my life, but I supposed that one major thing that shifted for me was my relationship with time. It's always felt like time is a scarce resource, but being a mom on top of being a CEO has really forced me to confront how I want to spend my finite time here on this Earth.
And what has been the most difficult adjustment?
Along a similar note, time management as a mom is absolute madness. There is never enough time. The other thing that I think a lot of parents will relate to is the feeling of not knowing whether you are parenting "right." As a mom, you never know if you are doing the "right" thing, but learning to trust your instincts and have confidence in your parenting decisions is key.
Who do you look up to? Who inspires you?
I know people have a lot of opinions about him, but I really find Elon Musk inspiring. I think he is a true innovator of our time and I find his resilience and fortitude as a leader quite inspiring.
What's next for Emilia George?
We have some exciting ambitions for the coming years! We want to go national with our Motherhood Boutiques to serve moms and women around the country. We are also expanding our revenue streams into consulting investing, and always looking for more impactful ways to help new moms!