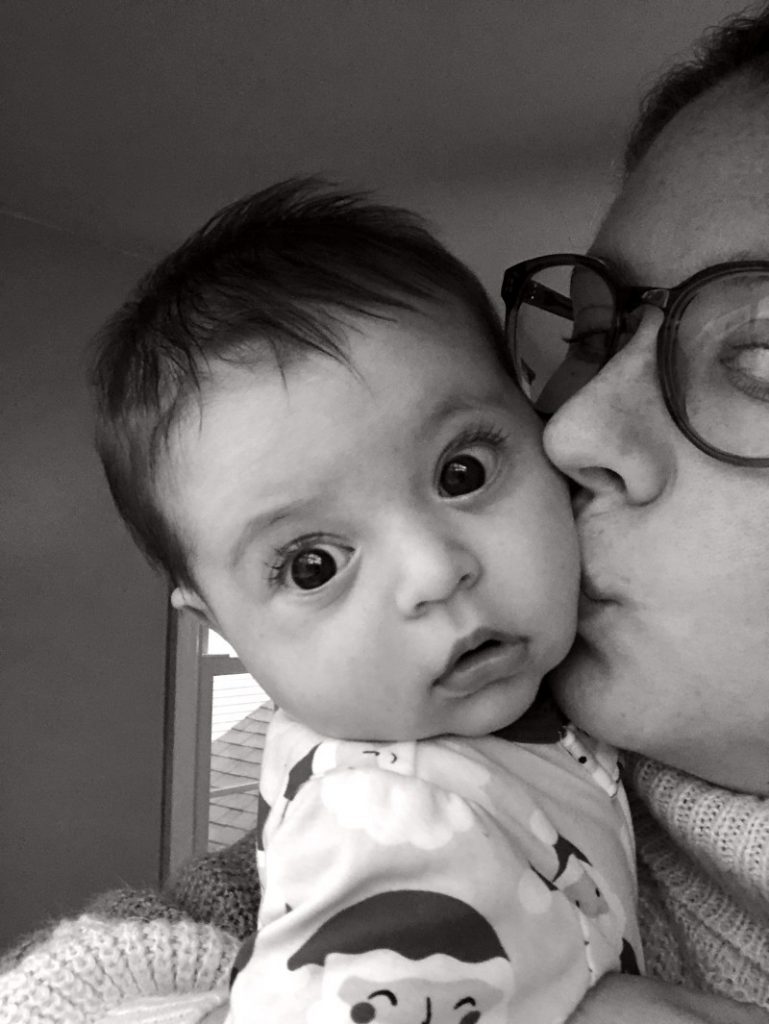 Pictures copyright & courtesy of Katie Montalbano
Never has there been a time like now to celebrate women who are doing it all. From sealing deals, meeting deadlines, and achieving career goals each week, all from their living room and whilst raising their children. They are simultaneously running companies and their households! Who said we needed a pair of heels and an office to reach heights in business!? Working from home has actually become the new attainable goal and has been showing women they can indeed multitask being both a mother and a boss!
Here at British American Household Staffing, we sat down for a teatime catch-up with our sensational Director of Recruitment Katie Montalbano where she took part in our Q&A focused on blending work with a newborn all during a pandemic! Here, we discuss life before and after having a baby during a pandemic with Katie bravely sharing her inspiring IVF journey and success as well as tips on how to perfectly balance being a great mother to beautiful baby Luna whilst holding down a demanding job for British American Household Staffing here in New York.
Name: Katie Montalbano
Age: 30
Baby's name: Luna
Baby's age: 6 Months
Congratulations on becoming a new mother during a very testing time! What can you say were the silver linings to this pandemic which you never realized until afterwards?
Thank you!! One major silver lining for me was being able to adjust to working from home prior to having Luna.  I was able to get myself situated and get into a groove that I could jump back into once she arrived. It was also pretty nice not having to commute in the summer during my last trimester!
You have inspired so many women with your IVF journey. Looking back on those beginning chapters where your fertility was becoming an area that required help, what words can you offer someone going through those early challenges right now?
Know first of all that you are not alone, in the past there has been such a stigma attached with infertility that nobody really talked about it! I think that's just now starting to change as more celebs start to talk about their personal fertility journeys and with social media you are able to connect with other people struggling too.
Chrissy Teigen has not only been extremely open about conceiving her children via IVF, but she's been extremely raw this year on her loss of her baby Jack. I suffered a miscarriage with my first pregnancy at 12 weeks, I couldn't imagine being in Chrissy's shoes at 20 weeks. Watching Chrissy's realness while in the hospital, during the months after, and even as recently as this week (the week Jack would have been due) made me reflect on my own experience and made me think about how many women have been in similar situations. Going through the physical loss of your baby, the depression that settles in afterwards, the yearly reminder of a birthday that you're not celebrating, it's a horrible club to be a part of – but there is a small piece of you that can sigh a relief that at least you are not alone.
I would advise others to try and establish a healthy support system. My husband Steven was by my side the whole way, but our families and close friends were also super supportive. Sharing does help. I was extremely lucky to have my whole British American Household Staffing office rooting for me while I was dealing with changes in schedule to accommodate monitoring hours and various doctors' appointments.
I would remind others that there are so many routes to becoming a parent, just because it might not happen in the 'classic' way doesn't mean you'll love your child any less or that you are any less of a woman or a parent.
What do you feel women as young as in their twenties should know regarding their fertility and how struggles can be mended with so many options nowadays.
I think the one major misconception I had regarding fertility was that I would get pregnant as soon as we started trying. I always thought that as soon as you 'start trying' you would get pregnant within a month or two but realistically there are only like 2-3 days per month you could technically get pregnant, it all relies on your ovulation. I didn't track my ovulation days until we were like 6 months into trying! A lot of the time it doesn't happen right away.
Also, I always thought infertility was something to worry about when you were older. I had no idea it effected younger women. I was 28 when we realized we would have to seek help. Another thing to keep in mind is that infertility is not just a women's problem, there are issues that can effect men as well.
There are so many different pathways to becoming a parent- naturally, IUI, IVF, donor eggs/sperm/embryos, surrogacy, adoption, etc, it's hard not to become discouraged but ultimately there's the right journey for everyone.
Modern medicine or holistic therapies? Or a little of both?
I would say a little of both. I'm obviously all for modern medicine- without my reproductive endocrinologist and the groundbreaking studies my practice takes part in, I wouldn't have been able to even have Luna. But I do think there's a little magic behind some of the holistic therapies. For instance, after both of our IVF transfers, we immediately did acupuncture which has be proven to aid in success rates.
If you could tell your 21-year-old self something right now, what would it be?
Tequila is not your friend?! Just kidding!! I think I had this image and goal in my head of having the 'perfect life' before I was 30 – have the dream job, get married, buy the house, have the first baby by 30 – back then I wanted 4!
I think I would tell myself now to relax a bit more, enjoy the fun, enjoy not having major responsibilities yet. I'd also tell myself that it's going to be a rollercoaster ride to reach those goals, there are going to be a ton of ups and downs involved with each thing you want to check off on your list, you'll have some dark times, but you will get through them and you'll be stronger because of them.
Raising children is inevitably challenging when you've got a demanding career. What advice can you offer to new mothers feeling overwhelmed when trying to adjust?
Take your time- you can't expect yourself to jump back in and work like you worked pre-baby. You now have new priorities and sometimes work is going to have to take a back-seat to baby and sometimes you're going to have to let baby play on the tummy-time mat just a little bit longer so you can get that email out. Eventually you'll get the hang out it. Also, accept any help you are offered.
How has working for an all-female company like British American Household Staffing who proudly support mothers in the workplace helped with your adjustment time in becoming a new mom?
It's hard for me to put into words how grateful I feel towards British American Household Staffing for their constant compassion and support. I never had the worry that my boss wouldn't understand my fertility journey and what sacrifices I had to make at work. I was able to focus on maintaining a happy and healthy pregnancy, not stressing out if I was running late due to commute delays, etc. And I knew when it came time to come back to work after leave that my boss would give me the flexibility to decide what worked best for me- working full-time, part-time, remote, in office.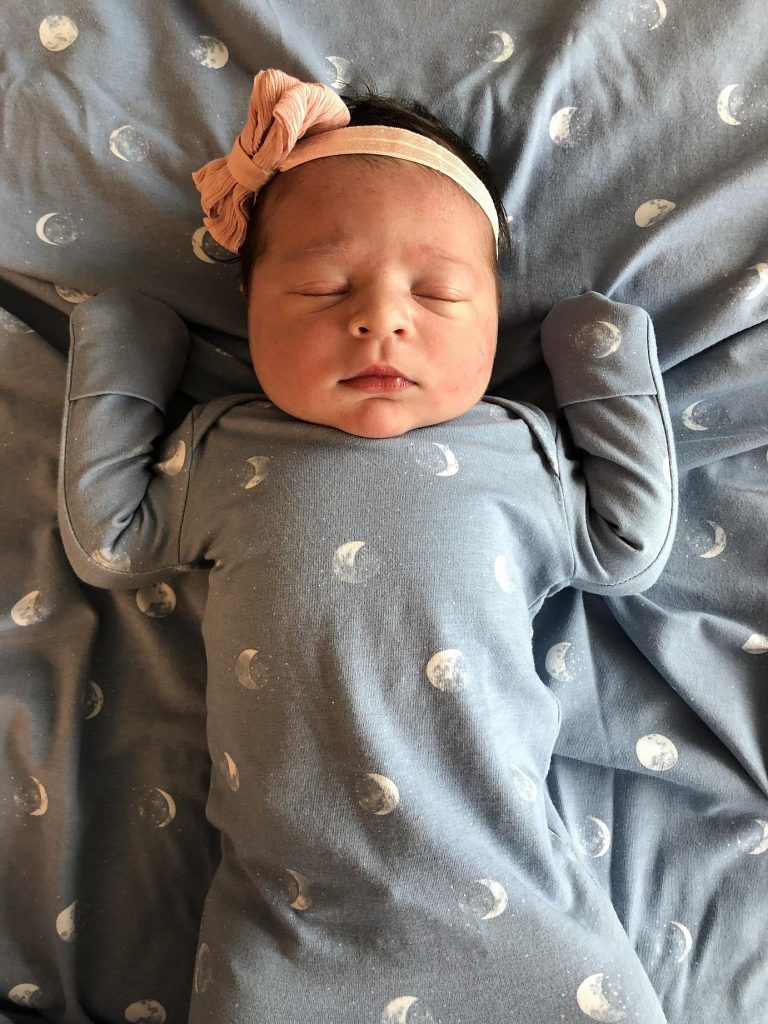 How many hours sleep are you currently getting each night?
Honestly, plenty haha. We are extremely lucky that Luna is a very good sleeper during the nights!
What's your favourite apps that could be great in helping other new mothers on their journey?
I have a couple. I could not have survived without Huckleberry – I'm now phasing out of using it as often, but I relied on it heavily when Luna first came home. Huckleberry helped us to track her feedings (when and how much), her naps (when and how long), her diapers (when and what kind), and even her growth.
We also use Nanit for her monitor, which has an app that both of us can have on our phones. I always have my phone with me anyway so why carry around a monitor and a phone? Plus, I know my husband loves checking in on Luna when he's at work and I'm in her room reading her a book or putting her down for a nap.
And my last one is FamilyAlbum. I just upload my favorite pictures and videos onto the app so her Grandparents, Aunts, and Uncles can see them daily instead of texting pictures to all our different group chats.
Which stores can you recommend for baby essentials?
My main go-to's are Target and BuyBuy Baby.
New York/New Jersey has so many incredible places for parents with babies, but with most being closed due to the Covid-19, what can you suggest as alternative ways to keep yourself active and creatively fulfilled as a family?
There are tons of virtual classes and programs being offered right now which I find incredibly useful. It makes it easier to fill yourself up with different things to do versus physically traveling all over to get to this class and that class.
Living in New Jersey, where are your favourite areas to take baby Luna when you're out for some fresh air with the stroller?
I love the area I live in (Montclair, NJ). When I was pregnant and lock-down had just started my husband and I got into the habit of visiting different parks around our town- our favorites are Brookdale Park, Verona Park, South Mountain Reservation, and Garret Mountain Reservation. We also love strolling around Downtown and Upper Montclair. And now I know which parks have the best playgrounds for when Luna gets a bit older!
What have been the most challenging struggles during your pregnancy throughout the pandemic?
Worrying about my health, Luna's health, my husband Steven's health. Wanting everything to be 'normal'. Having to attend all my OB appointments on my own was a challenge. Steven came to every RE appointment and morning monitoring session so it was really difficult when he then wasn't able to come to my OB appointments too. Trying to figure out a baby shower while maintaining social distancing was a challenge but not being able to have our moms and my sister in the labor room with us was tough – which I'm sure is a disappointment that every new pandemic parent shares and can relate to.
Do you feel being a mother in the social media age is a blessing or a curse – and why?
I think it's both honestly. I personally feel it's been a big blessing, especially with my infertility. I was able to join different groups and follow various accounts of other women who were going through similar experiences (pregnantish, resolveorg). But I do know a lot of women struggle with following various influencers who try to make 'Mom life' seem so easy and glamourous but I like to follow more realistic accounts that show that 'Mom life' is more about skipping showers and wearing spit-up covered sweats all day because that's all you can manage to do (Mother.ly, ScaryMommy, betchesmoms).
Have you ever used or considered using a baby nurse or nanny?
Honestly, I haven't. I'm extremely lucky having both my parents and my in-laws nearby and involved in Luna's life- I always knew that they would pitch-in with caring for her when needed. Family is the most important thing to me.
Which working mothers inspire you?
My Mom- I learned all I know about being a Mother from her. I learned how to juggle working, caring for your children, and running a house from her. She didn't have any help (she left her family in Chicago to move to the East Coast alone) so she truly is an amazing woman. I'd also say my sister inspired me too as she was a labor and delivery nurse working 12 hour shifts when she had my nieces.
I find Michelle Obama extremely inspiring. She's highly intelligent, hard-working, gorgeous, and has seamlessly raised her daughters all while creating and running numerous organizations and having the public watch and judge her every move. She also gave insight into her own IVF journey in her memoir – any woman who can self-administer IVF shots on their own is a badass in my eyes!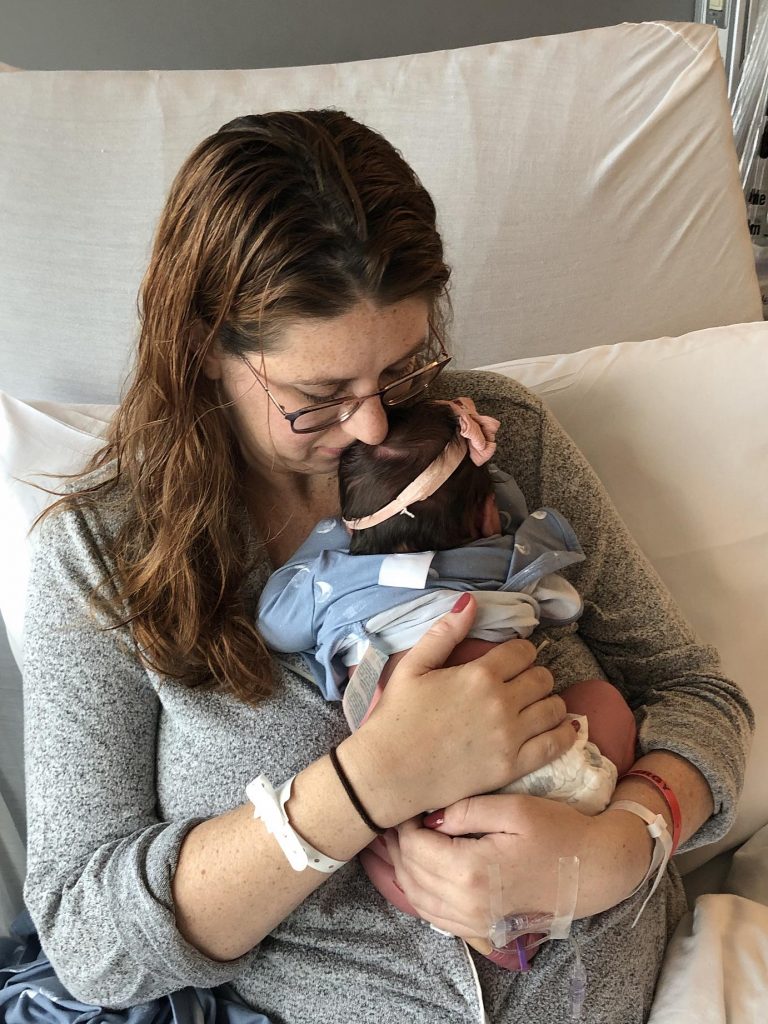 What advice can you offer an expectant mother who is nervous about giving birth during the ongoing pandemic?
You just have to roll with the punches. Hopefully things are bit more settled now, but over the summer when I was about to deliver the hospital rules were changing weekly. As long as you have one supportive partner, and you trust your doctor or mid-wife you'll get through it. The hospitals know what they are doing and are set-up to keep you safe- I didn't see any other people besides my medical team and they were all masked and gloved constantly. And not having visitors or a chaotic L&D floor allowed us to focus on just our new family for the first 48 hours of Luna's life.
What piece of advice did your mother give you that you carry through life?
I don't have a specific piece of advice, but I learned a ton through my moms actions. She had a full-time job but always made sure we had breakfast, a lunch brought from home and a home-cooked meal every night. She kept our house clean, planned all of our vacations, she made every holiday and birthday as special as possible and she took us shopping for whatever we wanted/needed. She basically ran our four lives (dad included!) and never let on how exhausting it must have been.
What are your hopes for 2021?
I hope for a healthier and more peaceful year than 2020 was. And I hope that we can take the small benefits that came out of COVID – like spending more time with family and the unique ways of interacting and getting together which we can take with us into the future.