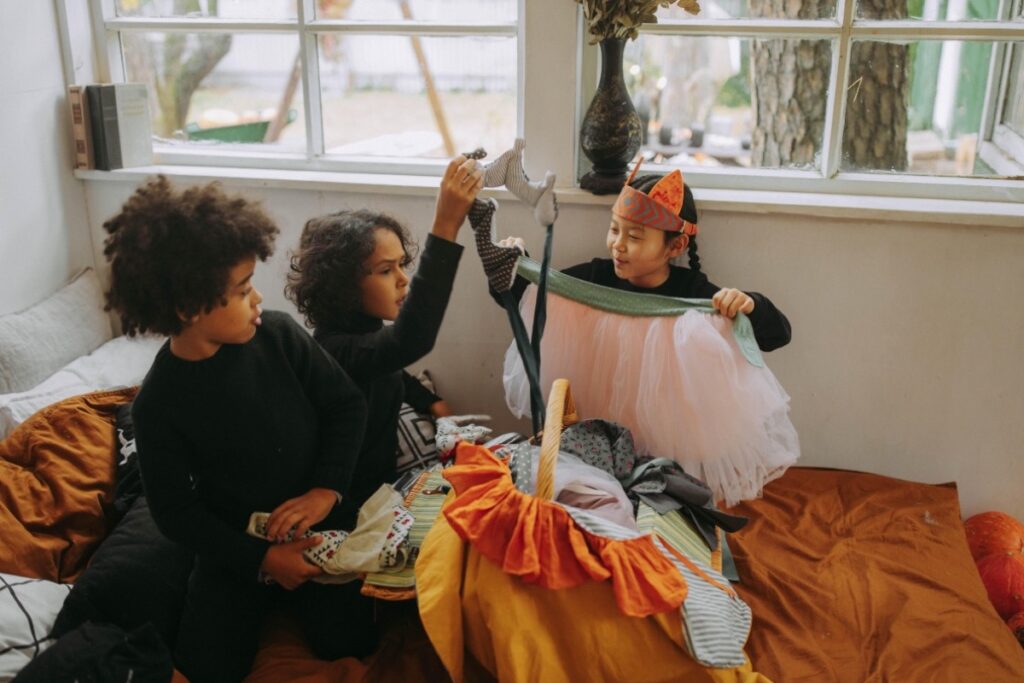 Happy Halloween!
Helping Children with Allergies or Intolerances Enjoy the Holiday
As we approach a spooky weekend of dressing up, scary movies, and trick-or-treating, we are sharing tips for making the holiday safe and fun for all children, including those with food allergies and intolerances. About 8% of children (or 1 in 13) in the U.S. have a food allergy, and often are quite serious. Halloween candies can be filled with all sorts of allergens, including milk, soy, and nuts – and many are not obvious to those unfamiliar with the allergens. We've gathered ways for parents of children with allergens to make the day fun and safe and tips for those hosting who want to be sure their home is an inclusive and safe stop on the trick-or-treating path. Happy Halloween to all!
Tips For Parents of Children with Allergies or Intolerances 
Focus on Non-Food Related Parts of the Celebration
There are so many wonderful aspects of Halloween that don't involve the foods your child has to avoid. Decorate your home as a family, visit a pumpkin patch, carve (or paint!) pumpkins, make homemade costumes together, dress up the family pet, or watch a spooky movie. Consider hosting a party for your child's friends this year – host a costume competition and serve your child's favorite foods. If you do decide to host, be sure to chat with the caregivers of the other parents to be sure your menu includes something for all little ones.
Communicate Trick-Or-Treating Guidelines Clearly
If you do decide to take your child with food allergies trick-or-treating, talk about it in detail in advance. It requires a careful balance between giving the child the space to have fun and enjoy the tradition while making sure the night is a safe one. Be specific and go over the rules with your child to manage expectations. Will you be checking labels as you walk? Will you wait until you're home to give you the time to confirm each item is safe? Perhaps the "switch witch" will be visiting; some parents have begun employing a character similar to the tooth fairy – she swaps your child's basket from trick-or-treating with safe Halloween toys or treats overnight. Finally, practice with your child how to politely decline an offering, if necessary – this will come in handy for any homemade treats neighbors may be handing out. And, of course, carry injectable epinephrine or other appropriate medication for your child at all times.
Plan in Advance
With a little planning, you may be able to add some fun surprises in for your child during the night. You might call ahead to a few friends or family members whose homes you plan on visiting and find out if there will be anything safe for your child – small Halloween toys are a great alternative to candy. Finally, keep an eye out for a Teal Pumpkin; if you aren't familiar, the Teal Pumpkin Project aims to make Halloween safer and more inclusive by encouraging families with non-food treats available to mark their homes with teal pumpkins (or often signs or images of a teal pumpkin). Some neighborhoods even offer searchable maps to find participating homes and businesses nearby; click here to see if it is available in your area.
Check Labels
As caregivers of children with allergies, you're likely used to checking labels incessantly. We would like to reinforce the importance of doing this for each candy – even candy you are familiar with in its larger size may include different allergens and ingredients in the "fun size" versions. And unless the baker knows you well and is very familiar with your child's specific needs, we always recommend turning down homemade goods as many allergens can hide in common ingredients and home cooks may not be aware.
Inclusivity Tips for Parents Hosting 
Ask Ahead 
If you're hosting a party or offering treats for trick-or-treating in a small neighborhood, take the time to check in with parents about allergies and intolerances to be sure there is something for every child. If possible, we love the idea of having at least one or two snacks that appeal to all children at the party so those with allergies can have a similar experience to the other guests. If not, let parents know they are welcome to send safe foods with their child; purchase some fun Halloween plates to make sure the child feels included and festive, even if eating differently from the other children.
Offer Alternatives
If your home will be a stop on children's trick-or-treating paths, we love the idea of keeping some small non-food items on hand so you'll be prepared for any little ghoul or goblin. Some of our favorite non-food Halloween gifts include pumpkin surprise balls, fun stickers, ghost balloons, Halloween gift crackers, and Halloween bubble blowers.
Display a Teal Pumpkin
As we said earlier, the Teal Pumpkin Project aims to make Halloween safer and more inclusive by encouraging families with non-food treats available for those with allergies to mark their homes with teal pumpkins (or often signs or images of a teal pumpkin). Adding a teal pumpkin to your front porch is a nice way to support all the children in your neighborhood and help ensure the holiday is safe and fun for all.
Easy Homemade Costumes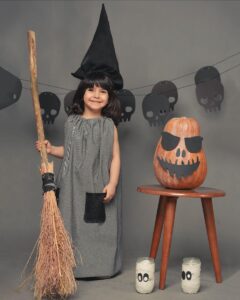 Ghost Costumes for the Whole Family