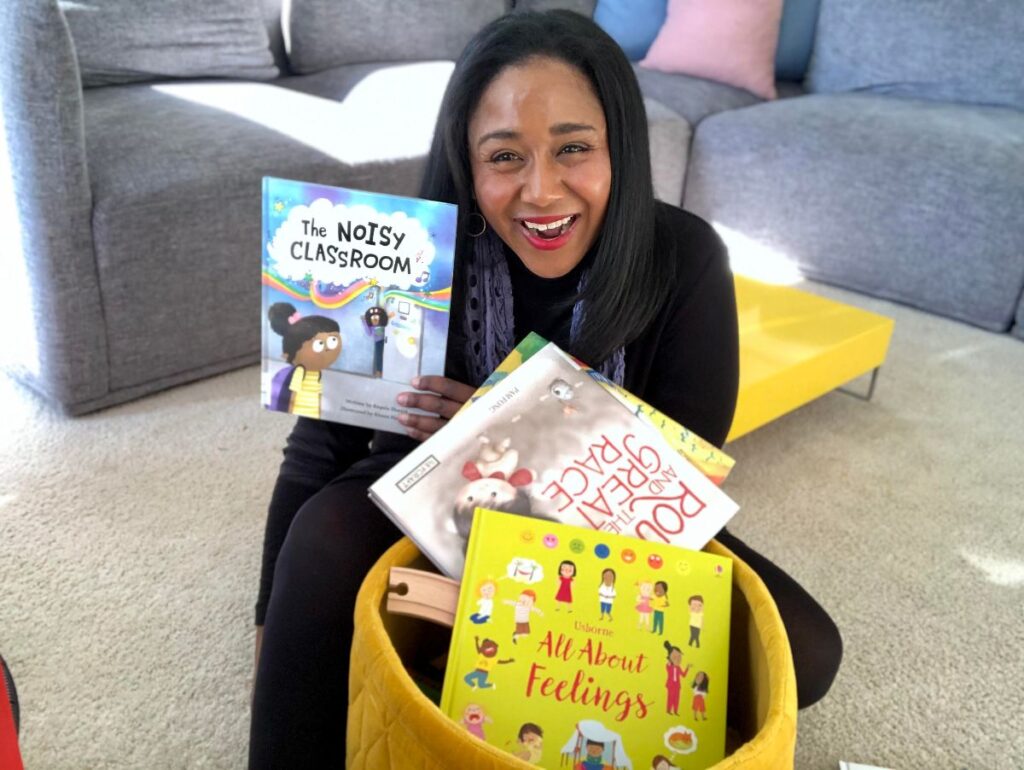 Meet Nanny Miss Monique: Mother, Nanny & Children's Literacy Advocate
This week, we partnered with Monique DuPree, better known online as Nanny Miss Monique, and discussed her recommendations for the best children's book on mindfulness. In addition to literacy and inclusion work, Nanny Miss Monique offer in-person and virtual story time sessions, as well as publisher workshops. If you'd like to connect with Nanny Miss Monique, you can learn more here.
ABOUT MONIQUE:
As a child caregiver for over 20 years, Monique DuPree has gathered a wealth of knowledge and experience related to early childhood education, learning through play, early age reading, and the importance of diverse characters of color in children's fictional literature. Known as "Nanny Miss Monique" through social media, she has connected the childcare community to the literary world through book reviews, local in-person and virtual story time readings, and interviews with authors and illustrators. Monique has been invited as a speaker at Nannypalooza & the International Nanny Association Conference. She has also been featured in several media outlets, including articles published for Generation Nanny, Nanny Magazine, and Sitter City, as well as the widely popular "Chronicles of Nannya" podcast. She recently co-hosted a community block party to raise awareness and support anti-gunviolence advocacy. A native Chicagoan and proud wife & mother, she hopes to help other moms, teachers, and nannies build their own libraries of inclusive children's books that allow them to effectively teach children the importance of self-worth, cultural pride, and the celebration of diversity throughout the world.
Nanny Miss Monique's Top Choices for Mindfulness Books
The use of mindful affirmations, breathing, and yoga has been adopted by parents and caregivers as a behavioral aid for little ones as they deal with big feelings and complex emotions. The following are some of the amazing children's picture books out there which creatively encourage them to practice mindfulness, while learning to appreciate the little things in life they're discovering every day.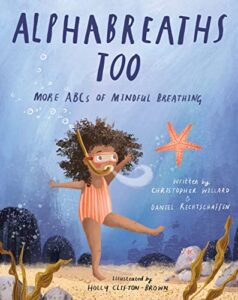 Alphabreaths Too by Christopher Willard and Daniel Rechtschaffen
Following up a tremendous entry into children's mindfulness books, the fantastic team of psychologist Dr. Christopher Willard and therapist Daniel Rechtschaffen are back with "Alphabreaths Too". The adventure and imagination continue with an all new set of breaths from A to Z.
Kids learn all kinds of new breathing techniques they can share with family and friends. They'll mimic the unique movements, sounds, and poses of cool animals like starfish and the natural landscapes of mountains and oceans. Incredibly interactive and calming, the book is colorful and inclusive thanks to returning illustrator Holly Clifton-Brown. The "Alphabreaths Too " continues a terrific series that teaches kids how breathing can be a fun way to relax and play.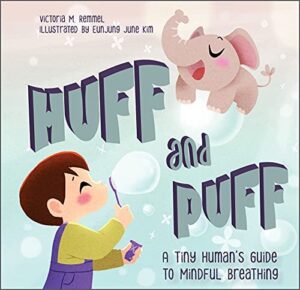 Huff and Puff: A Tiny Human's Guide to Mindful Breathing by Victoria M. Remmel
"Huff & Puff: A Tiny Human's Guide to Mindful Breathing" is a wonderful little book to help teach calming habits to toddlers. As they develop, they will have plenty of new and big emotions they'll encounter along the way, so it's a good idea for them to learn some easy breathing techniques early on.
Family-friendly author Victoria M. Remmel helps navigate very simple breathing techniques for them by incorporating activities kids love to do anyway, such as smelling flowers and fruit (breathe in) and blowing a pinwheel or a birthday candle (breathe out).
The pages are particularly bright and colorful, incorporating serenity, nature, and fun. Illustrator Eunjung June Kim draws the reader in with cute characters, smiles, and imaginative settings that will encourage kids to want to do the exercises on their own. There's even a pop-up section to help them count their breaths and remember the sequence. "Huff & Puff" is an excellent board book to introduce little ones to mindfulness and emotional self-awareness.
Order Huff and Puff: A Tiny Human's Guide to Mindful Breathing here.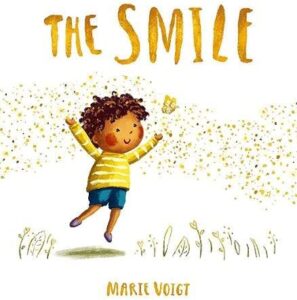 The Smile by Marie Voigt
A child's smile has a way of melting your heart, and it's something that encourages adults to make them happy. When they are happy, it usually means they are healthy and feeling good. What they probably don't realize is the impact their smile and happiness have on others around them. In a new children's book called "The Smile", written and illustrated by Marie Voigt, they see just how much something as carefree as a smile can spread joy from one person to the next.
In a sequence that unfolds page by page, we observe the result of one kind gesture given encourages another one received. Before long, the feeling has spread from a house, to a neighborhood, to a classroom, and eventually the world. From the time you lay your eyes on the beautiful cover highlighted by gold foil print, you'll be grinning ear to ear. This book also celebrates global diversity, music, education, and community, with intentional mindful wordplay and sweet, gorgeous illustrations.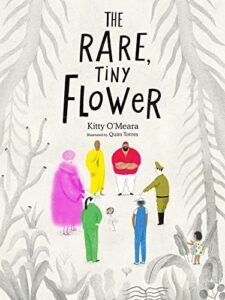 The Rare, Tiny Flower by Kitty O'Meara
Noted poet Kitty O'Meara became a best-selling author when her book "And the People Stayed Home" captivated a global audience, based on her pandemic poem that went viral online. She has a way of tapping into the emotional significance of human existence in a way that includes every living soul.
Fortunately, fans and new readers have been blessed with her latest entry, "The Rare, Tiny Flower", which tells a familiar story about how people's perceptions can be so divisive that they can bring us to the brink of war. However, when we listen to our youth, and tap into the forgotten youth that may be dwelling inside of us, a more open mind can form a pathway to peace.
In similar fashion to her last masterpiece, O'Meara works with an incredible international artist, Quim Torres, who is able to connect with her clear and rhythmic storytelling to create a colorful, balanced aesthetic. And although its depiction is clearly from a time and place unknown to our own reality, their talented collaboration showcases the dichotomy between our society's harmful rhetoric and propensity for change that underlines man's duality. The fact that it is very much a children's book does not defy its deep soulfulness. When the characters learn to get along and recognize the true, exotic beauty of the rare, tiny flower at the center of their original disagreement, they eventually find a gentle joy that they simultaneously share with the reader.
Order The Rare, Tiny Flower here.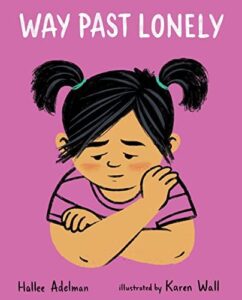 Way Past Lonely by Hallee Adleman
Who hasn't had a day where you feel like you're all alone and no one wants to hang out with you? Macy is a little girl who knows this feeling all too well in Hallee Adleman's latest, "Way Past Lonely". She can't seem to find anyone who's not too busy to play with her. Little kids have big feelings, and loneliness is an especially sad emotion. When she's just about to give up, she discovers that if she uses her imagination, it's OK to play on your own. It can even be pretty fun!
Another great addition to Adelman's "Way Past Books" Series, Macy's story is so familiar and just as necessary. It can be very helpful dealing with common issues like separation anxiety, and will be great for kids who are only-children or don't have siblings close to their age. Illustrator Karen Hall has been a consistent contributor to the series, and does such a good job in "Way Past Lonely" capturing the complex emotions Macy goes through, as well as the different characters and settings she's interacting in. Overall, "Way Past Lonely" describes a very healthy way to deal with the sadness that comes with feeling alone, which teaches children to find their happiness inside.
Stay Connected with Nanny Miss Monique