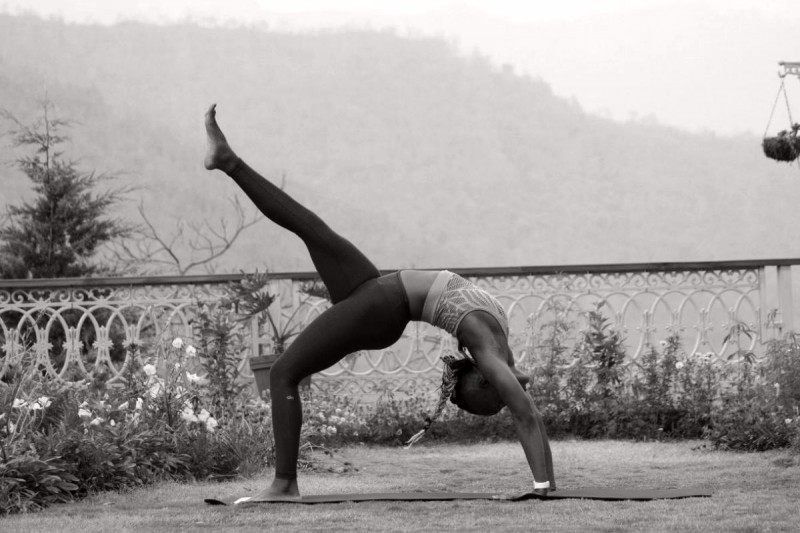 It's that time of year again where we set goals and goodwill resolutions in the name of a clean slate as January 1st arrives.
While we reach for more leftovers and loosen our belts after an indulgent festive period, chances are it's not just Christmas, but Covid pounds you're dealing with on the scales!
I think it's safe to say that 2020 has been more shaken and stirred than a James Bond movie. Those bursting diary planners we once carried littered with scribbled plans for lunches, classes, appointments and meetings are now thrown into a junk drawer since the abandoned pages became increasingly less inked.
Our comforting rituals and social interactions have now been on hiatus longer than the promised Friends reunion.
Our appetite for life seems to have been replaced with an appetite for several servings and midnight snacks thanks to such a stressful and emotionally charged year.
The ever mentioned social distance rule we're constantly reminded to keep has also regrettably made its way between us and our diets!
That's right. I've spent 2020 socially distancing my way from the morning healthy Nutribullet juices, my power walks around the park and the hot yoga classes I'd attend with friends.
As we watched our freedoms diminish, you wouldn't be alone in noticing your waistline's has increased. The one thing that the government can't restrict has been our binging at home whilst waiting for this tidal wave of resolution and order to be restored.
I write this after my third trip in the last hour to the fridge which has become my most frequently visited location in our home during the latest lockdown. You're not alone in reaching for the snacks, ordering in for four consecutive nights and treating yourself to the entire box of sugar cookies meant for sharing.
After all, what else is there to do as we try to compensate for the activities and habits that have been taken away from us.
With indoor dining banned until further notice, our favourite sushi place having closed down and the fitness classes being unavailable due to health and safety regulations, it's no wonder we are making our way to the kitchen more frequently for some fulfilling festive food!
"My real clothes don't fit me anymore so thank God there's no Xmas party this year" I overheard a woman in the store tell her friend on the phone yesterday.
Oh good! So we're not alone in finding that sweatpants are the new dress code!
This is what happens when balance is taken away. We've had so many rules and restrictions that it's no wonder it's beginning to show on our hips, our face, our scales! But with change comes realisation and we can absolutely restore the balance back into our lives while this pandemic continues to restrict us. If we can adapt to making masks part of our outfits we can absolutely adapt to nudging our bodies towards a more healthier route. "It's all about maintenance" I was told by a former nutritionist. "It's looking at calories in versus calories out and how you maintain your body's natural metabolism even during a lockdown"
Sounds simple enough.
So where do we start if we do want to get back to how we felt and looked BC (before Covid!)
In a word – exercise. If you just heard 'extra fries' then you're not alone!
Exercise is a word that has been shelved over the last few months, though it's about to push its way back to the front of the line to be seen and heard again along with its pivotal partner 'nutrition'.
Our nutrition is so important when it comes to physical, mental and social well-being, that now more than ever, it is vital for maintaining a healthy state of mind as well as strong immune system to prevent potential disease.
More than ever physical activity and movement are extremely important, with exercise being vital during the coronavirus pandemic as it can keep us focused, provide us with purpose and routine and benefit us from the following:
Depression
Anxiety
Diabetes
Heart disease
High blood pressure
Stroke
Exercise can improve your sleep and your cognitive function too – which during a global pandemic and so many conflicting pressures from financial to political, can be a welcomed release and comfort.
We caught up with personal trainer Jack* who initially struggled with uncertainty during the pandemic's early months as the gyms began to close. However, since the summer he has now become one of the most sought after personal trainers in the city, having developed personalised support and private training programs for his clients.
He tells us, "This pandemic has changed the fitness industry as a whole. The limited capacity in each facility has drastically reduced the number of options for people to attend gyms and workout in groups and classes which was what motivated them. People are looking for private training now more than ever. Outdoor one to one training sessions are the most sought after methods now of maintaining your physical and mental health, with online virtual classes coming a close second as people can do them from the comfort of their own home."
30 minutes of exercise 3 days a week is what we should all be striving for.
The 3 most important daily vitamins that are recommended to help your body stay strong and fight against respiratory infections are:
As we begin our new year with optimism and organisation, let your well-being from fitness to nutrition be the priority.
It doesn't have to be anything too extreme.
Try taking small steps towards little goals and set aside a little time each week for well-being routines like yoga or walking which will benefit your routine, body and your mind.
Our top 3 Fitness & Nutrition apps for 2021:
Fitness Blender
Shred
My Fitness Pal
We are also loving Charity Miles – the free app that allows users to raise money for charity by walking, running, or biking. For every mile tracked, the app will donate between 10 and 25 cents to a charity of your choice.
Introduce this to your friends or family to join with you and see how much you can raise for a charity you are all passionate about!
From all of us at British American Household Staffing.
Wishing you a happy and a healthy nutritious New Year!