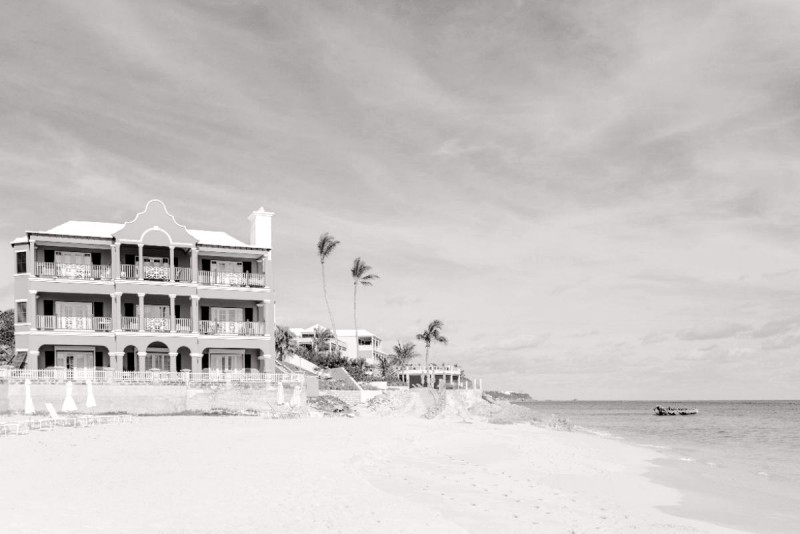 There are a few places in the world that are currently classified as very low COVID risk by the CDC. Of these, only a handful currently allow international travelers to visit. As winter approaches, many of us are dreaming of sandy beaches and tropical vacations; the team here at British American Household Staffing has put together a list of our top choices for warm island getaways where your family can relax and spend time together. The places on this list are all classified as "very low risk" in terms of COVID and are accepting international visitors from the United States and Europe, on both commercial and private flights.
Bermuda 
Bermuda is one of our top recommendations at the moment – it is one of the safest and easiest places to travel to, with direct flights from London and New York City, and simple restrictions once visitors land. COVID tests are required but once the results are returned (usually within 24 hours), international visitors are not restricted in their movements around the island. Although not quite as warm as some other destinations on the list, temperatures are still expected to be in the 70s (Fahrenheit) this month. Once there, enjoy the pink sand beaches, clear blue water, and friendly locals. Stay at the Hamilton Princess for convenient access to beaches and downtown. For a secluded, luxury experience, consider the Rosewood. Make sure to spend an afternoon in historic Royal Navy Dockyard, where you'll find authentic handblown glass souvenirs, the National Museum of Bermuda, and gorgeous ocean views. Click here to view all travel protocols for Bermuda.
Saint Lucia
Saint Lucia in the Caribbean is now accepting international visitors; the rules are stricter than in Bermuda but they still allow for an exciting vacation. Those arriving from the US and the UK will be asked to stay in a COVID-19 certified hotel for the first 14 days; after that, they will be allowed to move freely around the island. At the hotel, visitors will be able to partake in all hotel activities, including scuba diving, snorkeling and sailing. A full list of approved hotels is available here but our top choice is Sugar Beach, set on 100 acres of rainforest with sweeping ocean views. Choose from dolphin and whale watching, deep sea fishing, scuba diving or simply enjoy cocktails on your private patio. For families, we recommend booking the private villas, complete with indoor and outdoor spaces and private plunge pools. Click here to view all travel protocols for Saint Lucia.
Saint Kitts and Nevis 
Saint Kitts and Nevis opens to international travelers at the end of October. With just 19 confirmed cases and no deaths due to COVID-19, the island has a cautious reopening plan in place to ensure the island remains safe. International visitors will have to stay on their hotel property for the first 7 days of the trip and for the second week, are allowed on select tours around the island. Those who stay over 14 days will be able to move freely around the islands. There are six government approved hotels for international visitors to enjoy, including the Four Seasons Resort Nevis. For a larger group or family, consider booking the on-site five bedroom estate, featuring multiple outdoor spaces, a private pool and a dedicated golf cart to move around the property. Click here to view all travel protocols for Saint Kitts and Nevis.
All Destinations Rated as Very Low COVID-19 Risk
American Samoa
Anguilla
Bermuda
Brunei
Cambodia
Falkland Islands
Fiji
Greenland
Grenada
Laos
Macau SA
Marshall Islands
Micronesia
Mongolia
Montserrat
Northern Mariana Islands
Palau
Saint Kitts and Nevis
Saint Lucia
Taiwan
Timor-Leste
Vietnam
Entry rules for visitors to each country vary depend on country of origin; always check the most up to date travel restrictions before planning a trip. Visit the CDC's website for all travel advisories.
As always, we're here to assist with all your household staffing needs during this challenging time. Both childcare and cleaning professionals are considered essential workers and we have implemented strict protocols to make sure your family is as safe as possible. Contact us today to learn more.