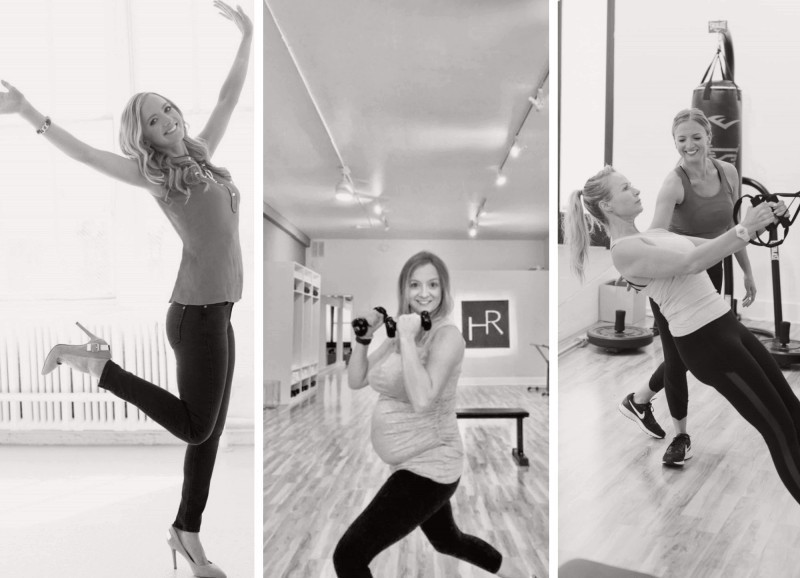 At British American Household Staffing, we love nothing more than having a chat to strong, successful, smart women who are inspiring others in body, mind and soul. So, when we met the beautiful Holly Roser, a certified Personal Trainer and a certified Sports Nutritionist in New York City and San Francisco, we were elated to also discover she is expecting a baby and can give us an insight into healthy diet, lifestyle and pregnancy tips.
Holly is regularly featured on top websites and broadcasts across the country as a fitness personality. Her unique training style and infectious spirit have captured the audiences of the Dr. Oz Show, CNN, Self Magazine, Shape Magazine, Men's Fitness Magazine, Prevention Magazine, The Washington Post, NY1 News, KTLA, TIME, Harper's Baazar, Brides Magazine among others. She has 15 years of experience in fitness, including 10 personal training certifications and is proud to be a fitness writer for Livestrong.com, delivering the latest workouts to busy professionals.
Holly's mission is to fight against the climbing obesity rates in America by encouraging people of all ages to start with small steps towards a healthy life.
Holly is the owner of Holly Roser Fitness Studio in San Mateo, CA where she and her team of trainers teach her signature H-Method in person and online.
In 2014, Holly created Girl Fit, a non-profit after-school program, for 37 Fairfax High school students in Los Angeles, CA. The focus of the program is to motivate and inspire inner-city, low-income teens to eat healthily and create a career path for each girl. Girl Fit is catered towards girls ages 13-18 where girls learn goal-setting skills and how to live a confident and healthy life. Workouts are catered towards teamwork and focused on well-being instead of weight loss. Holly's goal is to provide the tools for girls from low-income families to succeed in all areas of their lives while ensuring they have access to healthy foods and the knowledge to make the best food choices.
In 2020, Holly created, Renew, an organic, plant-based, meal delivery service saving professionals time by curating every meal designed for weight loss. Renew meals are delivered nationwide. In her free time, she loves running up hills in San Francisco and going on walks with her two Pomeranians and husband Johnathan.
Holly, you've achieved so much at such a young age. You are a highly successful woman in the fitness industry with a huge following. Do you have a plan to return immediately to work or are you considering having some time off?
I am so excited to have British American Household Staffing here to help me with my return to work! I am very picky about childcare needs as I have a team of employees to manage and 2 locations. I am only going to be able to take about 2 months off.
Congratulations on your baby news! What's been the most challenging part of your pregnancy?
I had severe morning sickness for 3 months which made it very hard to work and do my daily activities. I tried to focus on how grateful I am versus feeling sorry for myself or focusing on the nausea. This was no easy task!
So many women feel pressure to snap back into shape after giving birth. What would be your advice?
Take your time to lose the desired weight you want, crash dieting and starving yourself doesn't work. The slower you lose the weight the better chance you will have for fitness to become a lifestyle. You will lose the weight you gained during pregnancy if you eat a balanced diet and have a plan to reach your fitness goals. Be patient and make sure to train 3-4 days a week for the best results!
Many new mothers depend on newborn care and live-in nannies after their special arrival. Will you be adding a nanny to the mix to help you maintain and continue your workload in order to be both a successful woman at work and mother at home?
Having a nanny is essential to my happiness, my family's happiness, and running a company. I wouldn't be able to do what I love without the help of a nanny. I'm excited to learn from my nanny as I don't have much experience with babies.
With nutrition being such a pivotal part of healthy living, has there been anything your pregnancy has hindered or changed with your usual food habits?
I'm not used to eating more than 3 times a day and being pregnant has made it very difficult to adjust to the recommended 4-6 small meals a day! Feeling hungry all the time and searching for fresh, protein-packed snacks is a challenge when you're on the go. My family is Italian-American and traditionally Italians don't snack. We never grew up having snacks in the house, we really develop our eating habits at a young age. I'm mainly snacking on apples and peanut butter, mini frittatas, and homemade protein bites.
Which high profile mothers in the public eye do you find inspiring and why?
I love the Olympic gymnast, Shawn Johnson. She has so much fun during her pregnancy, she is a joy to follow on Instagram. Her and her husband are always having the best time together and making the best out of an uncomfortable situation! They even did an underwater photoshoot in formal wear! I'd love to hang out with her for a day.
What app are you're using right now that's enjoyable and helpful?
My favorite app is the What to Expect app. It tells you how big your baby is each week and gives you tips on how to deal with specific symptoms based on your week.
How can we lose some of our baby weight when pressed for time stuck at home?
A quick 20 minutes a day, with the proper moves will create a drastic difference in your body. Start with free weights or resistance bands and do full body moves that help reduce body fat and burn more calories than cardio. You can also take one of our online private or semi-private workouts (click here to sign up). Keep in mind to lose weight, reach 10k steps per day, which can be done on a treadmill at home or walking with your little peanut in your stroller.
How many minutes is recommended as a daily workout when pregnant?
You should aim for 30 minutes of moderate intensity aerobic training 3-4 days a week per the recommendation of the American College of Obstetrics and Gynecology.
Which is better, cardio or strength training?
Both types of training are beneficial, however, strength training and cardio combined are the magic formula to reduce body fat. Strength training burns more fat than cardio, and will provide a cardiovascular workout if HIIT is incorporated.
Is it safe to work out with a mask on?
It is completely safe to wear a mask while working out, you can wear a sweat wicking mask to help reduce discomfort. This is one of my favorite masks, lightweight and sweat resistant.
What should I eat before and after a workout?
The best thing to eat before a workout is a small meal containing protein and carbohydrates up to 45 minutes before your session. A piece of bread with peanut butter, hummus and crackers, greek yogurt and granola would all be excellent options. After a workout, aim for an item with protein and healthy fats like a sandwich, wrap, or even a sweet potato.
Do I need running shoes AND strength training shoes?
Running shoes are designed to provide proper support for your feet while they are hitting the ground at a fast pace. Running shoes add stability and cushion to your feet and joints, with this, it becomes difficult to strength train in them as they are usually bulkier. The bulk of the running shoe is not needed for strength training, and could cause injury while moving through your strength workouts. Both are equally important to invest in. For best results, a running store can do a gait analysis to help you choose the best option for your stride and gait.
Green juice VS eating veggies?
Juicing strips the fiber from your veggies, which is a key benefit to eating vegetables. It's much more beneficial to eat whole vegetables rather than juice them. Fiber helps us stay full for a longer period of time and also helps digestion.
Is it better to work out during the day or night?
The best workout is the workout you actually do. Check out my article in TIME magazine where I break down the benefits of each! As long as you get a workout in at some point during the day, you are doing awesome!
Tell us about a podcast that's making a difference to your life right now…
My favorite podcast is the Tony Robbins podcast. He interviews CEOs and entrepreneurs who have the best stories behind their success. Tony is one of the most interesting people on the planet and always encourages people to focus on maintaining a peak state where nothing can bother you. This can help get anyone through the emotions that come with pregnancy. Focus on how grateful you are to be pregnant instead of digging into a spiral of negative emotions.
What brought you to British American Household Staffing and why did you choose them for their childcare service?
As a busy business owner, I wanted to find someone who could match me with the best possible nanny rather than digging through unqualified applicants myself. I've seen so many nannies on the sidewalks while I run, all of whom are on their phones while walking, not paying attention to their surroundings. You want to be shrewd in who you hire, as having the right staff who is properly trained is a priority with a child.