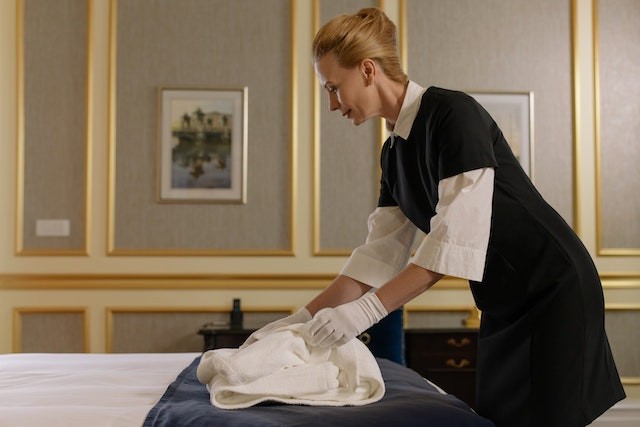 What is the difference between an executive housekeeper and a cleaner and why should you hire an executive housekeeper?
An executive housekeeper is a housekeeper with extensive experience cleaning fine homes and private residences. A standard cleaner is able to scrub, clean, do basic organizing, and laundry but won't have abilities beyond basic cleaning and clothing care.
An executive housekeeper will understand how to deep clean as well as how to manage detailed organizing, both creating systems and maintaining them. These tasks may include color coding wardrobes, arranging clothing by season and type, alphabetizing the pantry, and labeling children's clothes. They will understand proper folding and storage of clothes as well.
An executive housekeeper will know how to properly set a formal table for a dinner or dinner party and will understand the correct way to serve; including which side to pour wine, when to take the plates away from the dinner table, how to remain invisible during dinner but be available for anything the guests may need at a moment's notice.
An executive housekeeper will wear a uniform, usually chosen by the family or principal. Standard uniforms are khaki pants and a white blouse for the summer and black pants and a white blouse for the other seasons. They will know to wear a different pair of shoes inside the residence, tie their hair, wear no make-up or perfume, and wear minimal to no jewelry.
Both executive housekeepers and cleaners will know how to work on a team, but an executive domestic staffing team is much more sophisticated and tech-centric. Every member of staff understands their place and who to take orders from. The staff with operate similar to one in a 7-star resort. Everything will appear seamless. The principal, family, and guests will never see or hear of any issues or problems.
Each member of an executive domestic staffing team will know every inch of the household manual for each residence. They will understand how to work a smart home system, be capable of answering the phone politely and delivering the message when the time is right. Every member of an executive domestic staffing team is a sophisticated, well-trained member of the household while being able to be both directed and autonomous when necessary.
What about laundry?
This is a common question for us at BAHS. Does an executive housekeeper also do laundry? The answer is yes and no.
Some executive housekeepers must do laundry as the residence is a high-end home but not an estate. The latter will have an extensive staff, from estate managers to chefs and usually has a minimum of 5 housekeepers per property. A fine home of two working parents or one professional may also be a luxury home with high standards, but there isn't the large square footage to warrant hiring a large housekeeping staff. The principals in these types of homes will still pay the competitive market rate for an executive housekeeper, as they want the home cleaned and maintained properly.
Some executive housekeepers prefer the idea of working in a home with less staff. They can be more autonomous and sometimes better appreciated as they are naturally closer to the family being one of a few employees in the home. These candidates know if they are going to relinquish working in an estate, they will have to take on more of an all-encompassing role in this kind of home. An executive housekeeper in these homes will not take on childcare or chef responsibilities, but they will take on general professional laundry duties.
What is a laundress?
In an estate, the family or principal will hire a separate laundress, whose main job description is taking care of fine clothing. The laundress will understand how to press, steam, fold, and starch. Couture clothing can carry value of up to 10 million dollars and must be cared for professionally. It can take a laundress up to 30 mins to iron one shirt, if it is to be done properly.
A laundress will usually have previous seamstress experience as well as experience working with fine clothing. Some men's shirts are tailored specifically for the principal by a renowned tailor. These shirts are better maintained at home and they are rarely sent to an outside vendor. It makes sense to invest in a laundress if one has clothing of this kind of value.
A professional couple or principal in a luxury home as opposed to an estate will rarely require such high-level care of clothing, but they will need in-home professional laundry care. What does this entail? Excellent pressing and steaming, perfect folding and organizing of the clothing and a proper understanding of what clothes should be hand-washed or machine-washed. Your Prada cashmere sweater should not end up in the washing machine! An executive housekeeper will have enough intelligence, experience and knowledge to carry out these laundry duties.
What will an executive housekeeper cost me?
Prices for domestic staff are dictated by the market level for high-end hospitality as well as by supply and demand. In New York City and Greenwich, Connecticut an executive housekeeper will have an annual salary between $68,000–90,000. Many will require partial or full health insurance as well, which can be factored into their salary.
In San Francisco and the peninsula, executive housekeeper salaries range from $80,000–120,000 plus health insurance. San Francisco is relatively newer to wealth than New York, Palm Beach, or Greenwich. The area is also more understated, so properties and expectations are high but the need to show off isn't. This requires staff understand how to be invisible while available and how to work to a very high standard. Subsequently, a regular cleaner is not appropriate for these needs. There are less executive housekeeper candidates in the Bay Area than any other area.
Los Angeles varies by area – Santa Barbara is more expensive than the general Los Angeles areas due to supply and demand. An executive housekeeper in Santa Barbara will have a salary between $70,000–90,000, sometimes requiring health insurance whereas in the inner Los Angeles areas salaries range from $60,000–80,000, rarely asking for health insurance.
Palm Beach is not that accessible for those whose net worth is under 2 million dollars, so many domestic positions require living accommodations. This means the supply is limited. To find high quality service, our Palm Beach families will often relocate an executive housekeeper from New York or New Jersey and pay New York rates to ensure their residence is in good hands.
Connect with our office today to discuss your needs and find the right executive housekeeper for your home.