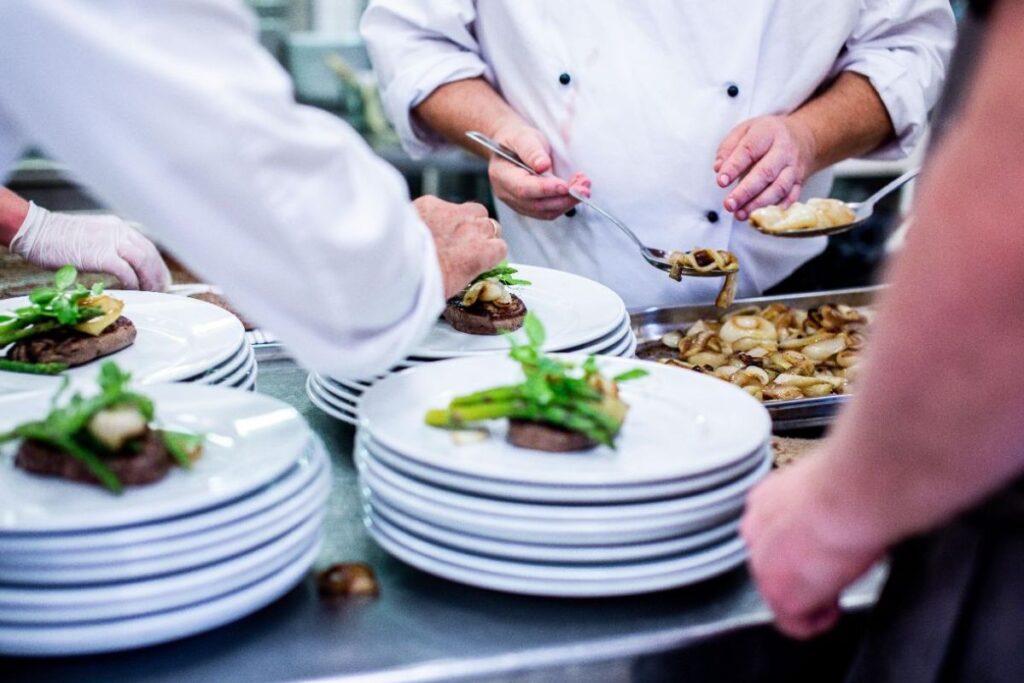 Many clients hiring new staff are unsure about whether they should adopt a uniform policy in their homes. There are pros and cons to implementing a uniform for domestic staff but whether you opt for a formal uniform or a more relaxed approach, any and all guidelines should always be clearly laid out for new hires, ideally in the contract or summary of expectations, or, at minimum, in a direct and clear conversation at the start of employment. In many homes, staff members are the first point of contact with guests, and it is crucial that they maintain a professional image at all times. This week, we've gathered common dress code guidelines, as well as our recommendation for where to buy top quality uniforms. If you have additional questions, contact us today.
Dress Code vs Uniform 
We always recommend that families include either written uniform details or dress code guidelines in the handbook or contract for new staff. A dress code is typically less strict than a uniform and often allows an employee to wear their own clothes – for example, you might ask an employee to dress all in black, or to wear a white or black polo with khaki pants. In those instances, the employee is given guidelines but is ultimately able to choose the specific brand etc. for themselves. Scrubs are a common choice for baby nurses, nannies, and housekeepers; in some instances, the employee will provide their own and in others, it is appropriate for the principal to provide the scrubs. Whenever an employer asks employees to wear a specific uniform or garment, those costs should be covered by the employer. Uniforms range from a simple combination of a polo with the family's monogram or crest (provided by the employer) with khakis to completely custom uniforms that matches the feel and style of the home. Typically, clients will stipulate one uniform or dress code for regular working days and another for special events.
Remember, when selecting a uniform for your staff, it is important to make sure the staff will not only appear professional but feel comfortable and safe and will be able to carry out all aspects of their job.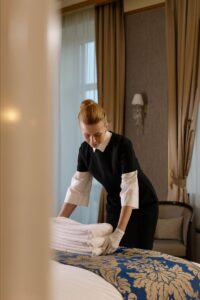 Common Dress Code Guidelines
Below we have gathered some of the most commonly requested dress code guidelines from our clients:
Staff should be dressed professionally and neatly at all times. This includes wearing clean, ironed clothing suitable for the task at hand and avoiding low-cut attire or anything revealing. High heels and open toed shoes are generally not acceptable. 
Staff may wear simple jewelry that doesn't not hinder job performance, such as a single pair of stud earrings. 
No perfume or heavy fragrances. 
No heavy makeup.
Nails should be trimmed and free from nail polish (or allow for neutral colored polish only).
When swimming with the employer or family members, one-piece bathing suits or swim shorts should be worn. 
Tip: Don't forget to include mask and other PPO requirements when writing your dress code.
Our Recommendations 
Scrubs
Scrubs are a great choice for nannies, baby nurses and housekeepers alike; they're comfortable, durable, and easy to wash. For simple scrubs in a variety of colors, we love Jaanuu; the company is popular among both healthcare workers and nannies. Figs is another solid brand available in many colors; they also offer a long-sleeve scrubs polo for a more polished look. For children with particularly sensitive skin, it is not uncommon for families to keep scrubs in the home that are washed in a specific detergent that will not irritate the child; in this situation, the staff would report to work, change into scrubs, and change again before leaving.
Collared Shirts & Dress Pants
For simple polos with the option of customizing with your monogram, logo, or family crest, we love Land's End, which offers options for both men and women. Depending on the employee's position and the season, these can be paired with khaki or navy active chino pants for men or slim ankle pants for women. For a step above polos and khakis, we suggest crisp long sleeve oxford shirts for men and women; again, Land's End offers customizable options in a variety of colors.
Traditional
For those looking for a more traditional, formal look for a housekeeper, consider a scrub dress or black scrubs and a heavy duty apron. For housekeepers and chefs alike, we also love Nouveau Chef's line of high-quality versatile aprons. Butlers and chauffeurs tend to be the most formally dressed members of staff in a home; both butlers and chauffeurs typically wear a suit and tie each day – although some families choose a more casual tone for their dress, particularly when there are no guests in the home.
Bespoke 
For estates with a large staff seeking a fully customizable, high-end option, we recommend Studio 104. In addition to designing uniforms for top brands, including Sotheby's, Fortnum & Mason, NoMad, and the Mandarin Oriental, the luxury company designs for private homes. Click here to see images of their work for the Chatsworth House in England. The company offers two types of products: Bespoke (9-month lead time) and a pre-designed collection (3-month lead time). We love the company for its rich attention to detail, modern yet timeless looks, and quality materials.
Further Resources