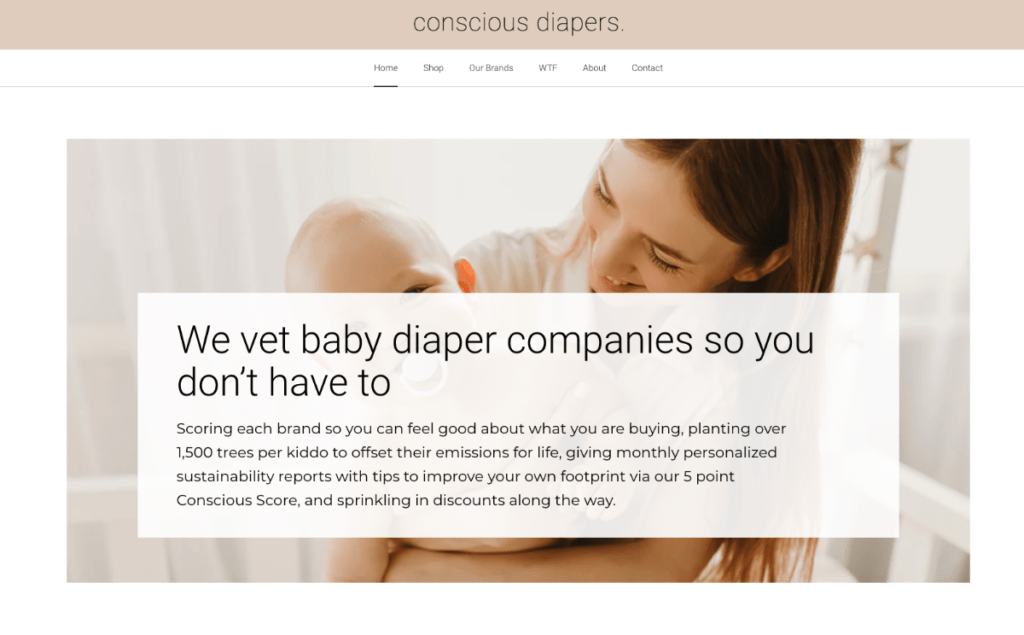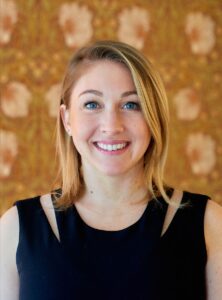 This week, we sat down with Samantha McCord, the founder and CEO of Conscious Diapers. Conscious Diapers' mission has two main components: to support parents in selecting the best diaper for their child and to combat the huge amount of waste that comes with using disposable diapers. First and foremost, the company helps parents navigate the tricky world of diapers by scoring diaper brands based on a number of factors, including environmental impact, performance, ingredients, and human rights. On top of that, they plant a tree for every five diapers used – effectively offsetting a child's CO2 emissions for life by the time they are out of diapers.
Our goal is to be a reliable and supportive partner to parents throughout the years that their babies are in diapers. Transforming the diapering process from a burdensome task to a convenient, conscious, toxic free and environmentally friendly experience. -Samantha McCord
What inspired you to start Conscious Diapers?  I founded Conscious Diapers because of the messy situations I witnessed parents facing when searching for the perfect diaper. From the newborn days to the potty training phase, there is always a challenge from rashes and some not-so-pleasant messes (that often end up on the parents themselves!) and oftentimes running out of diapers all together. With limited government regulations protecting our little ones, I wanted to create a simple and welcoming space where parents could find safe diapers that cater to their unique needs and values without hours of research. To add an extra dose of convenience and prevent those "uh-oh" moments, our subscription service works on a regular schedule, ensuring that parents never run out of diapers. Whether it's addressing skin sensitivities, avoiding toxins, embracing eco-friendly options, or ensuring the highest quality for their baby, we wanted to provide a transparent and reliable solution on their schedule.
How would you describe the company's mission?Our company's mission at Conscious Diapers is to make baby diapering as convenient as possible in an eco-friendly way. We understand that parents often feel overwhelmed by the challenges that come with diapering their little ones. We wanted to change the narrative by transforming something that is, well, sh*tty, into a hassle-free and enjoyable process for parents. Our goal is to be a reliable and supportive partner to parents throughout the years that their babies are in diapers. Transforming the diapering process from a burdensome task to a convenient, conscious, toxic free and environmentally friendly experience.
What's been the most challenging part of starting Conscious Diapers? The most rewarding?Starting Conscious Diapers has come with its fair share of challenges, but it has been an incredibly rewarding journey. One of the most significant challenges we faced was developing a unique product from scratch, as there is nothing quite like it in the market. It required extensive brainstorming and customer interviews ensuring that our idea resonated with parents while addressing their specific needs.
On the other hand, the most rewarding aspect has been the positive impact we are making on the environment. Our tree planting initiative is actively countering the environmental impact that each new child has on our planet. With every five diapers used, we plant a tree, allowing our Conscious Babies to offset their carbon footprint for life. This approach has a profound effect on combating climate change and creating a sustainable future. Seeing how we can turn a typically wasteful product into a catalyst for environmental change is truly fulfilling.
Do you think that parents can make an informed decision about the diapers they buy based on the information that's out there?The world of baby diapers is like a fascinating enigma. It's a whole adventure for parents to figure out what's best for their little ones. If you want to make an informed decision about your baby's diaper you'd practically need to become a detective, ready to spend hours and hours digging for information. It's like going on a quest for the holy grail of diapers! After you dig you'll notice, there are almost no regulations that require diaper companies to disclose what ingredients they're using, and they don't have to list them on their labels. The only ingredient they are required to be free from is lead, gee thanks US Consumer Product Safety Commission. It's like a wild west out there! If you have the time, you can find the answers, but who has the time?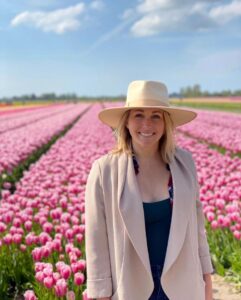 But here's the jaw-dropping part: independent testing has uncovered some eyebrow-raising secrets about certain diaper brands. They've found ingredients like formaldehyde, phthalates, and other harmful toxins lurking in those diapers. In turn, poor little munchkins can suffer from things like eczema, nasty rashes, developmental issues, and major discomfort because of these harmful substances.
Babies deserve better, and so do parents. That's why we're on a mission to bridge the gap between diaper brands and parents. We want to help these brands who have set a new standard, conducting third party tests, to show off their commitment to safe and reliable products. Because, no parent should have to spend hours searching only to be kept in the dark when it comes to their child's well-being.
We love the education component of your mission and learned so much from the 'WTF' section of your website. What's one of the most surprising things you've learned since starting this business? When I dove headfirst into diapers, I realized there is no way I was alone in my confusion. I'd come across terms or ingredients that left me scratching my head, going, "What on earth does that mean?!" And you know what happened next? I embarked on a wild research adventure, spending hours untangling the mysteries of those cryptic words and regulations. It's like falling down a rabbit hole of diaper knowledge! What is this regulation? What does this regulation actually cover?  That's precisely why we created the WTF page, for curious parents! We wanted to create a sanctuary where you can visit our site, click on any underlined and bolded word, and voilà! You're transported to a world of enlightenment. We even have a dedicated area for all those WTF terms. You can leisurely scroll through it and uncover the secrets behind ingredients, the various regulatory bodies overseeing baby diapers, and the awe-inspiring groups that go above and beyond what the government requires to ensure your baby's safety.
The most shocking thing we've learned about baby diapers is that they are not regulated like they should be. I think that we all figured that they were, but come to find out that diapers brands are not held to any specific standard.  For us It's not just about this knowledge. It's also about empowering parents to make informed decisions for your precious little ones. We want you to know which brands are putting their best foot forward, taking those extra steps to keep your children safe because, let's face it, the government isn't doing that for you.
How do you offset CO2 emissions?Did you know that a baby diaper takes a whopping 500 years to decompose in a landfill? Yeah, we were pretty shocked too! But here's another mind-blowing fact: the average American emits a staggering 14 metric tons of CO2 emissions each year, while the global average is just 4 metric tons per person. In an American lifetime their emissions make the same impact as consuming 400,000 gallons of gasoline. Talk about leaving a mark, right? When we understood these jaw-dropping statistics, we knew we had to take action. We couldn't sit idly by while our planet suffered the consequences, especially when it comes to our children's future. Every little one we bring into this world has an impact, and we wanted to make sure it's a positive one.
So, we embarked on a mission to find a powerful solution, one that would make a real difference. After extensive research, we discovered the incredible power of tree planting. It's not just about reducing CO2 emissions; it's about so much more. Planting trees brings a host of additional benefits, like releasing precious oxygen into the air we breathe and combating deforestation, revitalizing delicate ecosystems. Trees are nature's superheroes. They act as natural carbon vaults, absorbing and storing CO2, and working their magic to create a greener, healthier planet for our children's future. After all, what's the point of bringing them into this world if we don't have a beautiful planet for them to thrive on?
So, here's our ultimate goal: to create a generation of CO2-free kids. Through our tree planting program, we're on a mission to offset the carbon emissions generated by each child throughout their lifetime. By the time these little guys are out of diapers, we will have offset their carbon footprint for life and planted about 1500 trees per child at no extra cost to the parents. We believe this is one lasting positive impact!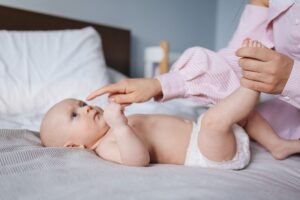 You are in the process of creating an app. Can you tell us a little more about the features of the app? Absolutely! We are currently developing an app that addresses two major challenges with baby diapers: sizing and cost. Let me give you a sneak peek into some of its exciting features. With cutting-edge AI computer vision technology, you can scan your baby with your phone and the app will recommend the perfect fit from our selection of 300+ diaper variations. No more guesswork or trial and error. You can also filter and customize your search based on preferences like vegan options, fragrance-free, or specific materials. It's all about finding the right diaper that aligns with your values and meets your expectations, conveniently in one place. Now, let's talk about the cost. What would you rather buy than diapers? Literally anything else! Diapers are expensive, but we have a solution. Think of it as a personalized diaper funding platform, similar to a GoFundMe page. Create your dedicated diaper fund and invite loved ones to contribute directly. Instead of receiving random diapers as gifts, you have control over choosing the diapers you want. Whether it's for a baby shower, birthday, or holiday, you can raise funds specifically for your diaper needs. And here's the exciting part – as your diaper fund grows, we'll reward you with discounts on diaper purchases through our marketplace. We believe in incentivizing your fundraising efforts and easing the financial burden. The more you raise, the greater the discounts you'll receive. It's a win-win situation that ensures your baby gets the best diapers while involving your loved ones in your journey.
Visit the Conscious Diapers website to learn more. 
If you're interested in collaborating with British American Household Staffing, contact us here.