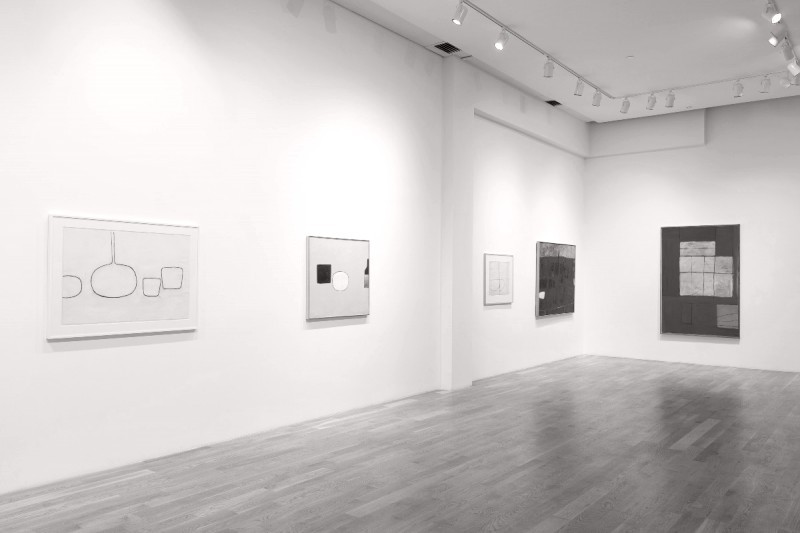 Above: Installation view of William Scott: Paintings and Drawings, Fifties Through Eighties (2019, Anita Rogers Gallery)
Photo Credit: Jon-Paul Rodriguez
Many of our clients are art collectors and admirers and have found it quite difficult during the pandemic to be separated from their usual routine of visiting galleries and museums. This has been a challenging and complicated time for the art world. Closures, changing regulations, and limited funds have made it difficult for collectors, artists, galleries, and museums alike.
After being closed for almost a full year, some museums in Los Angeles are finally reopening this month at 25% capacity; for others, it doesn't make sense to open with such limited numbers. New York institutions are mostly open and are slowly adapting to the new protocols and changes. Miami's museums have been open for several months now, mostly operating with limited hours. Galleries in all U.S. cities have taken different routes; some have opened with limited capacity and schedules, others by appointment only, and still others have shut their doors for good. Meanwhile in London, most museums and galleries have been closed for almost a full year and remain closed. However, new guidelines have just been released – commercial galleries can reopen, with restrictions, on April 12 and museums in mid-May. Despite all this turmoil, contemporary artists continue to make new work, and serious collectors continue to support the arts by visiting open spaces and by acquiring new works when possible, both from commercial galleries and from the auction houses.
As many of you know, British American Household Staffing's CEO and founder also owns and runs Anita Rogers Gallery, a contemporary art gallery in SoHo, New York that exhibits both primary and secondary market works.
The gallery is open Wednesdays and Fridays 11am-6pm.
The gallery is also open by appointment; please email Info@AnitaRogersGallery.com to schedule a private viewing of the current exhibition or of works by any artist on our roster.
See information about the current in person and online exhibitions.
Now On View – BAHS' Recommended Exhibitions
The team here at British American Household Staffing has put together their list of recommendations for current museum exhibitions, both online and in-person.
New York (In-Person)
The New British Galleries at the Met: Over 11,000 square feet devoted to British decorative arts, design, and sculpture created between 1500 and 1900.
Goya's Graphic Imagination at the Met: 100 prints and drawings from the remarkable Spanish artist.
Los Angeles (In-Person)
Franklin D. Murphy Sculpture Garden: 5 acres of sculpture by artists including Alexander Calder, Barbara Hepworth, Henry Moore, and Auguste Rodin.
Miami (In-Person)
Art Outside at The Bass: Works in nearly every medium installed in Collins Park and around The Bass.
London (In-Person and Online)
Sculpture in the City: The 9th edition of this annual sculpture show is presented both outside in-person and online this year. The exhibition has been extended through mid-April.
Online
Van Gogh Museum's 'Here to Stay': Features works acquired by the museum in the last decade accompanied by stories from curators and historians.
Time Decorated: The Musical Influences of Jean-Michel Basquiat at the Broad: A series of talks, images, and information regarding Basquiat and his influences.
Virtual 360° Tour of the Buontalenti Grotto in the Boboli Gardens: Incredibly detailed and beautiful view of the historic grotto.