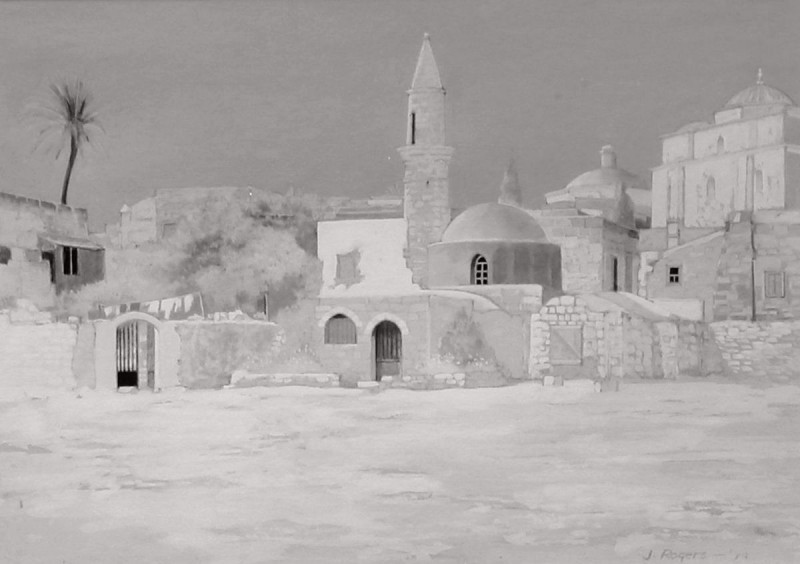 Image Credit: Jack Martin Rogers. Rhodes. 1979. Gouache on paper. 8″ x 11″
During times of high stress, the importance of art becomes even more apparent. Growing research supports the benefits of art for emotional and physical well being; in 2017, Harvard Medical School's blog shared information about the link between increased creative activities and decreased stress and anxiety, as did Ashford University. Whether you and your family choose to view art you love, discover new painters together or make your own art at home, art can serve as a comfort, a solace and an affirmation in difficult times. The team here at British American Household Staffing has gathered some our favorite ways for the whole family to engage with the arts from home.
Visit Galleries and Museums
From galleries to museums and non-profits, almost all art institutions have adapted over the past few weeks and now offer some sort of online programming to allow the public to continue to engage with their collections from home. We recommend Anita Rogers Gallery's digital catalog for Jack Martin Rogers: Drawing, an exhibition postponed due to COVID-19. The exhibition features a selection of drawings that have never before been seen by the public, including portraits, cityscapes and more. We also love getting to know Spain's Guggenheim Bilbao, which boasts pieces by Mark Rothko, Robert Rauschenberg,  Richard Serra and many other masters. London's National Gallery also now allows virtual viewers to explore the halls and take a closer look at over 300 paintings.
New York's MoMA hosts live virtual experiences every Thursday; we are saving the date for June 11's virtual exploration of Vincent van Gogh's Starry Night and a live Q&A with a special guest!
Care for your Collection
If you have art on your walls, now is a great time to engage with it in multiple ways. On a practical level, take this extra time at home to make sure you have all the necessary paperwork for pieces you have purchased. Check with your insurance company to find out what specific documents they require; the gallery you acquired the work from should be able to assist with any missing documents.
It is also a good time to try moving art around the home, learning more about artists you collect or to discover new artists who may complement your current collection. Take a moment to teach your children about the art your family lives with and engage them in a conversation about what they see in the work and what you love about it.
Encourage Creativity at Home
Set aside time each day for your children to explore their creative side. We love The Kitchen Table Classroom, a free site with hundreds of art projects and activities for kids, from printable paper dolls to instructions on how to make papier-mâché bowls. Art For Kids Hub, another great family-friendly site, offers hundreds of drawing and painting tutorials for children of all ages. The Metropolitan Museum of Art offers brief virtual sketching classes every Saturday afternoon for children ages 13-18. via Instagram; children can share their work for a chance to be featured on the museum's social media.
If you're looking for creative gifts for an upcoming special occasion, we recommend MoMA's Art Making with MoMA: 20 Activities for Kids Inspired by Artists at The Museum of Modern Art; not only does the book inspire creativity but it also teaches children about the museum's collection and art history. The book is part of the "Making with MoMA" series we absolutely adore; other favorites from the collection are the storytelling kit and this Van Gogh inspired crayon.
Preserving Children's Art at Home 
Once your child has finished his or her masterpiece (or series of masterpieces!), you may be wondering what to do with it next. Whether you'd like to display it, share it, archive it or keep only a digital copy, there are custom solutions for everyone.
If you'd like to save space without losing the memories, ArtKive is a great tool. You simply mail in a selection of your child's work (they provide the box!) and Artkive professionally photographs and digitally catalogs all of it and finally, sends a book or framed mosaic featuring the works to your home. Alternatively, Keepy offers a way to digitally archive and share artwork from $9.99 a month; the app even allows you to add shareable clips of your child working or talking about the project. If your young artist wants to show off their original artwork, we love this article by Artful Parent which highlights 21 clever ways to display kid's art at home. Finally, we adore Child's Own which is a specialty toy company that designs custom real-life plush toys based on your child's drawings!
As always, we're here to assist with all your household staffing needs during this challenging time. Both childcare and cleaning professionals are considered essential workers and we have implemented strict protocols to make sure your family is as safe as possible. Contact us today to learn more.