The peak of gorgeous fall foliage colors can happen anywhere from late September to November, based on area. This week, we are sharing resources to help you find what time of year is best to see foliage in your area, plus our favorite luxury hotels in some of the top autumn destinations. Finally, we share some tips for staying safe from ticks while spending time in the great outdoors. And mark your calendars – the official start of fall is just over two weeks away on September 23, 2023.
When will the foliage in my area reach its peak?
USA Estimated Fall Foliage Map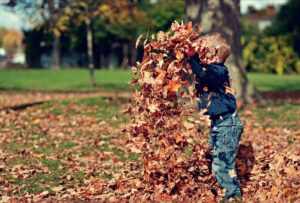 Recommended Getaways for Peak Foliage Viewing
White Barn Inn, Kennebunkport, Maine
Book a room at the White Barn Inn in Kennebunkport, Maine for gorgeous autumnal views. Reserve one of their charming New England-style rooms for a cozy and elegant stay in a historic setting. This time of year, we'd recommend a Garden Room or the Junior Suite; both feature large windows facing the woods so you'll have a front row view to the red and orange hued trees. The Tern Cottage is also a great choice for those seeking forest views, as well as more space and privacy – the studio-style cottage has a wood burning fireplace, huge windows, and a private patio with river views. Make it a point to stop by the hotel's AAA Five Diamond, Forbes Five Star restaurant with rustic charm and a dramatic picture window overlooking the woods.
The Point, Saranac Lake, New York 
This woodsy waterfront hotel is spectacular. As the only Forbes Five Star property in Upstate New York, this hotel understands hospitality and blends the wild with the luxurious seamlessly. The suites feature waterfront views, private patios, fireplaces, soaking tubs, and cathedral ceilings. The kitchen is open 24/7 and welcomes guests' special requests. The resort is nestled amongst the trees on the lakefront with stunning views in all directions. It's the perfect place to enjoy a fireside cocktail while admiring the start of autumn.
Amangani, Jackson, Wyoming
The mountains of Jackson Hole are a great place to enjoy the unbelievable autumn colors. The resort features stunning views of the mountain from the rooms, common areas, and from the excellent on-site restaurant. If the weather agrees and you're feeling adventurous, ask the concierge to serve your meal in a secluded area on the property and they'd be happy to set you up a private table. The resort also offers hiking, mountain biking, horse riding, fly fishing and hot air ballooning. This time of year, be sure to book a room with a view of the Tetons, such as the Gros Ventre Suite, which has a fireplace, private balcony, large tub, and window-side daybed.
Blackberry Mountain, TennesseeThis luxury resort is the sister property to Blackberry Farm (another beloved top-notch hotel we highly recommend); while the farm focuses on high-end relaxation and leisure, the mountain focuses on nature-based activities – and both properties allow you to take advantage of incredible farm-to-table culinary experiences. In the fall, book one of the charming stone cottages which feature breathtaking mountain and treetop views, as well as private patios with outdoor lounge chairs and both indoor and outdoor fireplaces.
The Inn of the Five Graces, Santa Fe, New Mexico
This hotel – the recipient of multiple awards, including #2 Best City Hotel by Travel and Leisure in 2021 and made Condé Nast's list of the top 20 hotels in the world – is worth a visit when you're in the southwest. The traditional adobe and stone building is filled with lush prints, unique historic objects, and, of course, luxury amenities. Enjoy the Tibetan spa, lounge in the gardens, or dine on delicious New Mexican and Cajun-inspired dishes at the hotel's restaurant. Although you can see the stunning New Mexico fall foliage in the area around the hotel, ask the concierge to arrange a day trip (about 1.5 hours each way) to Taos to enjoy an artistic town, surrounded by the mountains and some of the best fall colors in the country.
Hartwell House, Buckinghamshire, UK
40 miles north of London, you'll find the incredible Hartwell House and Spa in Buckinghamshire. There, you'll enjoy rich fall foliage and over 90 acres of gardens. Stay in the historic main house to enjoy charming rooms in the restored 17th century house or choose to rent the private Old Rectory for plenty of space and privacy. The Old Rectory sleeps up to seven and comes equipped with an outdoor swimming pool, a fully equipped kitchen, a dining room, and even a boardroom that can seat up to 10.
Tick-Season Tips
Tick-season doesn't end with summer. Ticks typically stay active until temperatures reach freezing or there is snow on the ground. While you're enjoying the beautiful fall foliage, here are a few tips to help your family stay safe.
Avoid wooded and brushy areas with high grass and leaf litter. Walk on paths and avoid wandering off. This is the first line of defense against ticks, but not always realistic, especially for children and adventurers.
Wear long, protective clothing. The CDC recommends treating clothing gear with products containing 0.5% permethrin, such as this spray from REI. Once back inside, remove the outdoor clothing, check for ticks, and put in the dryer on high heat for 10-minutes.
Use the right bug repellent. A regular mosquito spray or similar will not be effective against ticks. Instead, try Sawyer Premium Picaridin or Off! Deep Woods Spray. Note that the EWG (Environmental Working Group) does not recommend products that combine repellent and sun protection so be careful when selecting products.
Check yourself, children, and pets for ticks. After coming inside, try to take a shower and do a tick check within 2 hours. Don't forget to check in and around the hair and ears, inside the belly button, behind knees, and the underarm area.
If you find a tick, act quickly and calmly. Follow the CDC's guidance for removing a tick and what to do after.