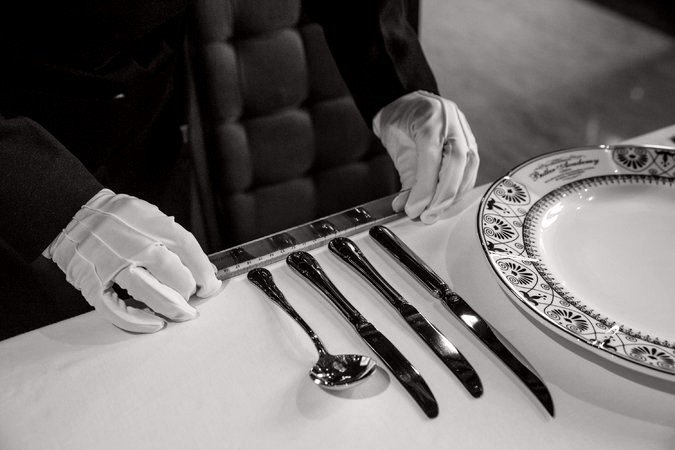 At one time, the terms "butler" and "house manager" could be used interchangeably in reference to the professional charged with organizing and maintaining a formal home. Over time the definition and basic responsibilities of these two occupations has shifted apart into very distinct roles.
As explained by British American Household Staffing's founder Anita Rogers when interviewed for Town and Country:
A house manager oversees the structure of the staff and typically does all of the hiring and firing. They handle scheduling—making sure a chauffeur is always on call, housekeepers shifts are covered, and that a replacement is available if someone calls in sick. They're also responsible for the budgeting, financial planning, and overall management of household.
A seasoned butler is properly trained in etiquette, so they understand how to serve a meal and handle all the details, from the wine pairings down to the flower arranging. They provide a white glove experience, which not everyone needs or wants. In Silicon Valley, for instance, no one would have a butler. But in New York, it's much more common.
Professional butler duties often vary and may include but are not limited to managerial responsibilities, keeping accounts, and maintaining the wardrobe for the members of the house. They will be well versed in etiquette and serving, and have thorough understanding of formal home care.
Due to West-Coast culture and how homes have changed in modern times, house managers are much more common in California. They may take on duties traditional to a butler as well as more managerial tasks for the home. A qualified house manager will be able to adjust to a Principal's lifestyle, whether formal or informal and provide professional and efficient service.
A house manager of a larger property will report to the estate manager, Chief of Staff or Director of Residences. A house manager in a smaller property or more urban home will often report directly to the Principals.
The house manager is responsible for the smooth running of one property. Depending on the size and Principal's needs, there may be some overlap of duties similar to ones a personal assistant or executive housekeeper may have. A good house manager will be willing and able to pitch in wherever needed to ensure the home runs smoothly.
Every household is different in needs and level of attention. Some Principals entertain often and require "white-glove" service. While other households demand that a manager oversee extensive construction and renovation. A house manager in a townhouse may oversee from three to fifteen members of staff and manage their schedules weekly and monthly. In a larger estate, they may work with other managers, such as a personal assistant or Director when managing the large staff base within the property.
More common responsibilities may include:
Supervise all contractors and vendors
Hire, train, and manage household staff
Receive and look after guests
Plan and execute events
Craft and manage a household manual
Manage household budgets and bookkeeping
Prepare property ahead of a Principal's arrival
Maintain automobiles, private jets, and/or private yachts
Cooking, cleaning and laundry duties as needed