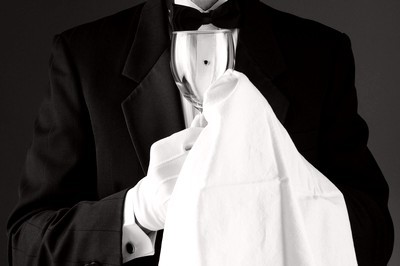 What comes to mind when you think of a butler? Is it the formal, British domestic service staff from Downton Abbey? Or do you think of Alfred's stoic and tech-savvy service to Batman and Wayne Manor?
If you are looking to hire a butler for your home, it is important to understand the modern butler's duties and how one may support your unique household.
A butler is usually a valet or major domo for the gentleman of the house or the entire household. He or she will hold a certification from a Butler school, often from England or the Netherlands and will be well-versed in wines and may hold a culinary degree.
In the late twentieth century, the number of homes employing butlers decreased dramatically. In response, the role evolved to extend beyond valeting and serving and began to take on more managerial responsibilities. Due to this change and a boom in household income, especially in countries like China, hiring a butler has once again become a common solution to household staffing.
Traditional Butler Duties
The term "butler" at its conception, referred to the middle-ranking servant of a home who was in charge of the wine and liquor stored in the buttery. In early America, the butler's duties were still focused on the wine cellar and food storage, especially before refrigeration became common. He also cared for valuable china, crystal and other silver and gold items in the home. As the world adopted Victorian standards, the butler's role became more formal and included managing other members of the household staff as well.
While the British butler is most common in cultural portrayals, the occupation is much more French in its origin. Modern butlers are most often employed in the USA and the Middle East, and a large majority of those butlers are Swiss. The premier butler school is located in the Netherlands.
The traditional butler may be thought of as a formal, British, male staff member; however, female butlers are gaining popularity. Depending on the cultural traditions and preferences of the family, a female butler or manager may be preferred over a traditional male professional.
Modern Butler Duties
Regardless of how the role of the butler has changed over time, the position is dedicated to discreet and competent service.
Modern butler duties vary and may include, but are not limited to, managerial responsibilities, keeping accounts, marketing, and maintaining the wardrobe for the Master of the house. A butler will be well versed in etiquette and serving and have a thorough understanding of formal home care. In many cases, he or she may speak several languages.
In many households, the role of butler and house manager may be combined or overlapped, depending on a home's particular needs. A butler/house manager is typically responsible for a family and staff schedule, household finances and all household-staffing issues. They deal with vendors, pre-empt maintenance issues and ensure the smooth running of the household.
A Butler's Role in a Fully Staffed Home
The modern butler's role is more fluid and specific tasks are determined by home size and location. Because of the role's Swiss-Army-Knife-like functionality, many smaller estates employ only a butler to oversee the management of the home and serve the principal/s.
He or she may be the only staff in a small home serving an individual or couple. In larger homes, the butler usually serves as a house manager or right below the house manager. Tasks may include supervising staff, hiring and training staff, compiling and organizing the household manual, seeing to maintenance and repairs, planning events and menus, and caring for fine clothing and managing wardrobes.
Hiring a Butler for Your Home
Your butler will quickly become essential to the smooth running of your home. They have intimate knowledge of all structures, staff and principals and dedicate their energies to operating efficiently and without difficulties. This means that the process of hiring the right household butler for your family and home should be approached with care and patience.
Knowing what needs are particular to your home
Understanding the needs of your home and lifestyle will be critical to finding the right butler. As every home and family is unique it is important that your butler not only be experienced but a fit in expectations and demeanor. When working with an agency like British American Household Staffing to hire a butler, the first step will be to discuss your needs and expectations so that you are only presented experienced, professional butlers that match your criteria.
Average compensation for a butler
The average butler works 60 or more hours a week. Depending on location and specific responsibilities, a butler may make anywhere from $70,000 – 150,000 as an annual salary. Living accommodations or stipends are often offered to aid in expenses and contribute to a lower offered salary.
Experience level and training also play a role in a butler's requested rate. Those trained in the British butling style or those who have experience in formal, fully-staffed homes are often paid at a higher rate for their expertise.
Working with BAHS to hire a butler
We are proud to be the leading agency for butlers and formally trained household staff in the United States and England. We have a roster of trained butlers, many of whom are valets, chefs and house managers. Our offices serve the New York City area, including southern Connecticut, Los Angeles and Santa Barbara, the San Francisco Bay Area and Palm Beach, Florida. Our international team serves the UK, Europe and the U.A.E.
Our expert team sources qualified candidates and conducts a rigorous screening and interviewing process. Reference screening and background checks are also handled by our team to ensure only the highest-quality candidates meet with our families. For us, success is a placement that results in a contented household and a butler who enjoys long-term job fulfillment.
Learn more about our standards or contact our office to begin the process of hiring a butler.